Signage announcing an improbable condo project was meant to spark conversation about the future of Toronto housing, according to an urban artist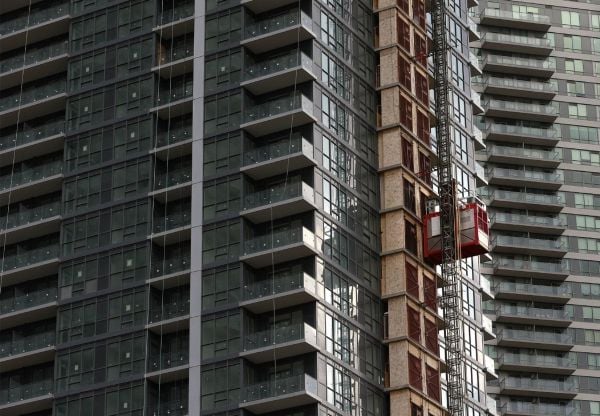 Two weeks ago, a poster announcing the erection of a 90-storey condo tower on top of a heritage building in Toronto turned many heads and generated much buzz among locals, who have begun wondering if the real estate industry has finally gone too far in a city that has seen intense development over the past few years.
Exactly as planned, according to one of the creators of the mock proposal.
"The idea that such an outrageous development proposal could be considered real, even for a moment, is what motivated fellow artist Mike Stulberg and I to do this project," urban artist Daniel Rotsztain wrote in a letter to
The Globe and Mail
.
The signage also featured other ludicrous proposals such as a tower piled on top of an already existing condo tower, a 30-storey building atop Casa Loma, and a condo complex swallowing up the Sharp Centre in OCAD University.
"In the real estate frenzy this city is experiencing, it feels like nothing is too sacred not to be considered for development. Our faux proposals featuring Toronto's most beloved buildings address our concern that the development proposal process in this city is broken."
"To be sure, density is good for the city. But concentrated hyper-density is a thoughtless imposition on Toronto," Rotsztain added. "The condo boom, already reaching densities equivalent to London, England, has not been accompanied by an increase in transit, affordable housing, or public amenities."
Rotsztain argued that a long-missing ingredient in the process is resident engagement, stating that not many people in Toronto are "meaningfully included" in the shaping of the city's future.
"We can have online town halls on social media to voice our visions for the future. We can have people present outside proposed developments, noting concerns during peak rush-hour times. But most importantly, we need effective mechanisms that control the development process to reflect our values."
"The reaction to the [mock signage] has been heartening," the artist concluded. "Our proposal's viral spread reminds me that Torontonians care deeply about this city. It's time for the development-proposal process to reflect that."
Related Stories:
Ottawa will continue to monitor housing market: Finance Minister Bill Morneau
Government 'shafting' millennials out of Toronto housing market - columnist