Such a move has never been made in the 25 years since the overnight rate's inception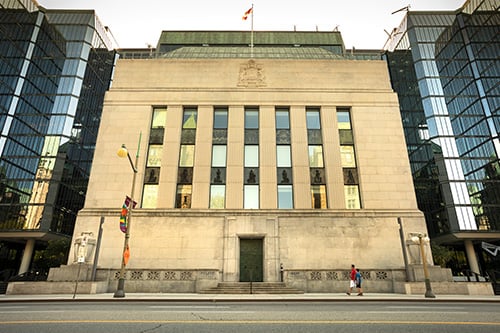 While the Bank of Canada has ruled out negative interest rates in its previous statements, the likelihood of "micro rate cuts" of less than 25 basis points is increasing due to the economic impact of the second wave of COVID-19 infections, observers have warned.
The potential cut comes at a time when few see a pressing need for more widespread financial stimulus, said Andrew Kelvin, chief Canada strategist at TD Securities.
"The fact that the Bank of Canada has kept the door open to [a rate cut] in recent months hasn't gone unnoticed by markets," Kelvin told Reuters. "People have their guard up."
Such a micro cut has not been used in the almost 25 years since the overnight rate was implemented in February 1996. Lowering the rate could stimulate spending, as evidenced by the jolt given to the Canadian housing market by 2020's historically low borrowing costs.
"The Bank of Canada just mentioning it in prepared remarks means that they're thinking about it," said Royce Mendes, senior economist at CIBC Capital Markets.
The lag in deployment of coronavirus vaccines has been cited as a possible major driver of economic lethargy for the first part of 2021. A sharp jobs market decline last month could prove to be an even greater impediment, with economists warning of further labour weakness in January.
"If you think that 25 basis points is not the effective lower bound, then why wouldn't you be moving rates to the effective lower bound, since we have ongoing quantitative easing and we are still buying provincial bonds," Kelvin said.
The central bank's next policy decision is scheduled for next week. Spokespersons approached by Reuters have declined to comment.