June housing starts marked the highest since September 2015, according to the latest numbers released by the CMHC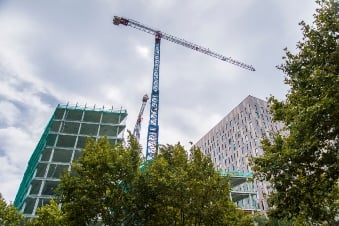 Amid ever-increasing demand and prices, the pace of construction accelerated in Vancouver and Toronto last month, and this surge is not likely to stop any time soon.
As reported by Theophilos Argitis of
Bloomberg News
, updated numbers released by the Canada Mortgage & Housing Corp. (CMHC) on July 11 showed that the annualized pace of housing starts went up by 17 per cent from May to June, up to 218,333 units.
"Overall, June saw housing starts pick up pace in Canada, bolstered by apartment construction in Ontario –- especially new condo construction in Toronto's downtown core," CMHC chief economist Bob Dugan said. "However, elsewhere in the country, construction activity slowed as apartment construction eased in Quebec."
June's figures marked the fastest rates since September 2015. Combined, Vancouver and Toronto comprised 37 per cent of new construction last month, even as building slowed down in other markets like the eastern provinces.
Housing starts in Vancouver totaled an annualized 35,445 units in June, while Toronto stood at an annualized 45,848 in the same period.
"The supply response has been delayed, but [the] housing starts report is a good sign that it may be coming," Toronto-Dominion Bank Diana Petramala wrote in a research note.
"Residential construction activity remains a highly regional story in Canada, as it should given how widely economic conditions differ below the surface right now," BMO Capital Markets senior economist Robert Kavcic stated.
Related Stories:
Canada home construction picks up in June, boosted by apartments, Toronto condos (Housing-Starts)
Canada home construction investment outpaces price growth - report