A Cushman And Wakefield manager is cautiously optimistic about the office sector post-COVID-19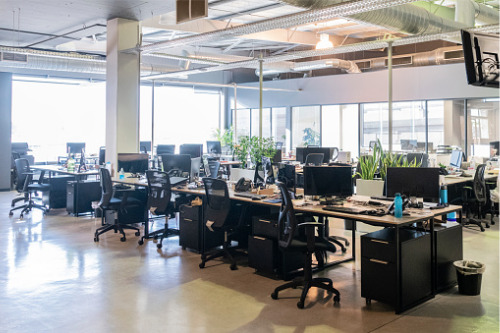 Canada's commercial real estate sector is as unsettled as it has ever been. With CECRA struggling to work up a detectable heartbeat, there is growing anxiety that when federal and provincial efforts to support small businesses through the COVID-19 pandemic come to an end, it will leave thousands of business owners unable to pay their employees or their rent.
Retail and restaurant tenants are already having the life squeezed out of them – and social distancing will mean more discomfort for both shops and shoppers going forward – but the damage coming to the office sector is a little harder to gauge since most renters of office space have been able to carry on operations by leveraging a work from home model to generate some form of income. Companies with their leases about to expire, however, will have a large part to play in the future of office real estate.
"Those companies whose leases have come to an end, they're looking at what the future is," says Luciano D'lorio, Cushman & Wakefield's director of operations in Quebec. "They're in the process of negotiating with their existing landlord or they're looking at a new space."
Office real estate faces several unknowns that could negatively impact demand. Social distancing means more space will be needed per employee, but smaller businesses may not be able to justify the added expense of renting larger spaces. Working from home has proven a productive, if not entirely fulfilling, alternative to the typical office 9-to-5, giving companies the opportunity to greatly reduce their rent expenses.
But D'lorio remains optimistic that the pre-COVID-19 office paradigm is here to stay.
"There's still a need for office space," he says. "Think of all the money that companies spend on team-building and building a corporate culture. I think that's hard to do in a remote situation."
D'lorio says maintaining office space is also valuable in attracting millennial and Gen Z workers. According to Cushman & Wakefield's recent Future of Workplace study, neither group particularly likes working from home. D'lorio says if employers want to attract a steady stream of willing young candidates, it's in their interest to resist a complete work-from-home framework and provide office space, even if it's on a part-time basis.
"I think, in the long-run, there's going to be a mix," he says, "of people who want to work from home – and employers are going to accommodate them – and groups who want to work in the office."
D'lorio is particularly optimistic about suburban office space. Downtown offices are still better suited to provide that coveted work-live-play balance, but they are also problematic in a world rocked by COVID-19. Few people will be excited by the prospect of riding in a packed subway car for 45 minutes just to get to an office building where they'll have to share an elevator with eight other people.
"The public transit issue is what's keeping many employees from wanting to return," he says.
A two- or three-storey building in the 'burbs would alleviate two major concerns. Abundant, often free parking would mean employees could drive themselves to work. A short walk up the stairs would eliminate those uncomfortable, "Should-I-be-inhaling?" elevator rides.
D'lorio says Cushman & Wakefield plans to bring 25 percent of its staff back initially, with the next phase of reopening to be determined by the path COVID-19 takes. A vaccine or treatment for the disease would speed things up considerably – and clear much of the fog obscuring the future of Canadian office space. Until one materializes, office tenants and owners will be forced to wander another few months in the dark.