The Crown Corporation released its latest Housing Markets Insight Report Thursday, which focuses on the foreign investment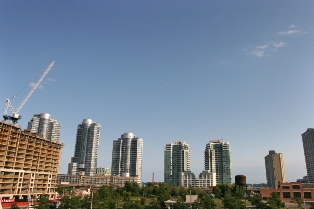 "The really interesting thing about this report is the insight it provides into foreign ownership of condominiums in Canada by age of structure. For example, in the downtown core of Toronto, we know that, in buildings completed since 2010, about 10 per cent of those units are owned by foreign buyers," Bob Dugan, chief economist, Canada Mortgage and Housing Corporation, said. "This compares to about 2.3 percent for units completed during the 1990s. This represented another piece in the puzzle of foreign investment in Canada. It remains a top priority for CMHC to continue to get more information on foreign investment in Canada's Housing market."
The report found that foreign ownership is most prevalent in new condo buildings in Toronto and Vancouver.
In Toronto about 10% of newer buildings (built after 2010), compared to 2% of those buildings built in the 1990s.
A similar trend was found in Vancouver, where 6% of units in newer buildings are believed to be foreign-owned.
Highlights from the report include;
In the Toronto CMA, the share of foreign ownership is less than 2% for buildings completed before 1990 and 7% for newer constructions completed since 2010. This effect is even more pronounced in Toronto Centre where about 10% of the newer stock is owned by foreigners.
In the Vancouver CMA, foreign buyers' share rises from less than 2% for properties built before 1990 to about 6% for those completed since 2010.
The stats were pulled from a fall 2015 survey.
CMHC admits the data isn't perfect.
"At this time, no existing tool can provide a definitive measure of the level of foreign investment in Canada's housing markets," it said in a release. "That said, CMHC regularly engages in discussions internally, as well as with industry experts, as part of its continued efforts to develop a program of work that would better capture data on foreign buyers."
To read the full report,
click here
.