Nominations are open for awards in over 20 categories at the Canadian Mortgage Awards, and Platinum Sponsor CIMBC is encouraging industry professionals to participate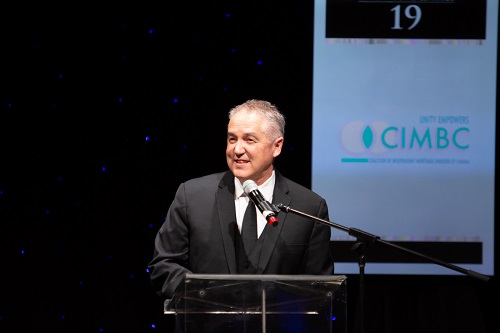 It's been a big year for the Coalition of Independent Mortgage Brokers of Canada (CIMBC).
The organization of independent mortgage firms saw exponential growth in 2019 by adding 26 new members for a total of 58 brokerages. John Bargis, owner of Mortgage Edge and founding member of CIMBC, says there is even more development yet to come.
"There is significant value differential that we have to offer versus what the industry has come to know under a network model. One example of this is CIMBC's all inclusive cooperative structure that shares in its successes with all of our coalition brokerages," he said.
CIMBC was created in 2014 with the goal of reshaping the industry for independent brokers and building strength by banding together. Their mission continues to be to make the mortgage experience a win every step of the way for all parties, from the broker, lender, agent all the way to the consumer.
"When CIMBC's unique approach to partnership was first presented, admittedly, there was some scepticism. We now have five years of data that confirms our vision and demonstrates to our lending partners that CIMBC truly does bring something very different to the industry," Bargis said. The coalition prides itself on being a pillar of support for members, with a strong focus on building solid relationships with lenders. They also offer education programs on how to operate as efficiently and profitable as possible, in order to compete with the bigger networks.
CIMBC is the platinum sponsor for this year's Canadian Mortgage Awards. For 14 years, the annual event has been the leading independent awards ceremony for the mortgage industry, with over 20 categories to recognize outstanding achievements in the field, whether it's brokers, brokerages or lenders.
"The CMAs is the closest thing to an arm's length representation of excellence in our industry. The gala is typically a top shelf event that is very well attended by industry stakeholders for the purpose of recognizing the success of their peers," said Bargis, adding the importance for CIMBC to be a part of the prestigious event. With nominations now open for both individual and organizational awards, he encourages the mortgage community to show support for colleagues and celebrate top performers by sending in a nomination. "It's a good thing to recognize hard work that others can learn from as the build their careers," he said, "without nominations, there is no acknowledgement or appreciation."
As for CIMBC's plan for the new year, Bargis kept his cards close to his chest. "There's lots more to come as we announce more of our successes and growth in 2020, but don't expect a complete reveal of our best kept secret."
Nominations are being accepted on the Canadian Mortgage Awards website until January 15, 2020. Winners will be announced at the much-anticipated awards gala on April 15, 2020 in Toronto.