A slowdown could be felt as early as Q1 2018, economists warn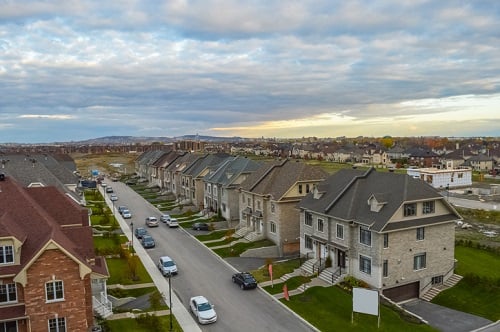 Canada's real estate market will hit a slow patch in 2018 as tighter mortgage stress tests apply pressure and the impact could be exacerbated if an expected interest rate hike drives buyers to put off their home purchases, economists said earlier this week.
Observers added that further hikes from the Bank of Canada could heap stress onto buyers already combating stricter regulations that were introduced by the Office of the Superintendent of Financial Institutions on January 1 for uninsured mortgages, and elevated 5-year fixed mortgage rates that were pushed up by the CIBC, RBC, and TD banks last week.
"This is the most significant test the market has seen in recent years," CIBC chief deputy chief economist Benjamin Tal said, as quoted by The Canadian Press.
Tal is expecting a market slowdown to be seen as early as the first quarter as people who were hoping to scoop up homes weigh whether renting or living with family for a bit longer will pay off later in the year, when the country has grown accustomed to the new conditions.
"The big question though is to what extent investors will stop buying," Tal stated. "That will carry a big effect, but it's still the biggest unknown."
Read more:
Canadians more anxious about higher interest rates, monthly bills – survey
The Canadian Real Estate Association slashed its sales forecast for 2018 to predict a 5.3% drop in national sales to 486,600 units this year, shaving about 8,500 units from its previous estimate due to the impact of the stricter mortgage stress tests.
Earlier this week, the association released a report revealing that national home sales rose 4.5% on a month-over-month basis in December, and that the average national home price reached just over $496,500, up 5.7% from one year earlier.
CREA noted that the bounce likely stemmed from buyers scrambling to nab homes before being forced to submit to the uninsured mortgage regulations, which requires would-be homebuyers with a more than 20% down payment to prove they can still service their uninsured mortgage at a qualifying rate of the greater of the contractual mortgage rate plus two percentage points or the five-year benchmark rate published by the Bank of Canada.
"It will be interesting to see if the monthly sales activity continues to rise despite tighter mortgage regulations," CREA chief economist Gregory Klump said in the report.
The association also shared that the number of homes on the market increased by 3.3% in December from the month before and December home sales were up 4.1% on a year-over-year basis.
The improvements signal that the country is "fully recovering from the slump last summer" when there was a drop in sales before a set of policies introduced by the Ontario government in April produced the desired market slowdown in Toronto during the second and third quarters following a hot first quarter.
"The new OFSI measures and a shift to a rising-state environment should prevent speculative froth from building again, and contain price growth to a reasonable pace for the remainder of the cycle," BMO Capital Markets senior economist Robert Kavcic predicted in a note.
Related stories:
Residential prices saw 10.4% year-over-year growth last quarter
2017 strongest year in a decade for Canadian builders