Building boom could be Canadian developers' long-delayed response to inflamed demand in Vancouver and Toronto, observers say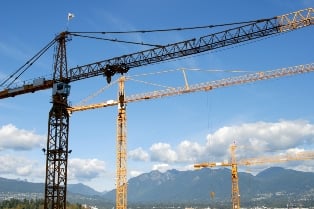 A robust resurgence in housing construction is underway in various parts of the country, according to a recent report by Statistics Canada.
The study released last week found that investment in condo construction in Vancouver grew by almost 49 per cent on a year-over-year basis, while Toronto saw a 28 per cent rise in the identical category over the same period, as reported by Daniel Tencer of
The Huffington Post Canada
.
The same StatsCan document also revealed notable increases in detached property construction investment, tallying up 17.2 per cent in Vancouver and 37.3 per cent in Toronto.
The figures outstripped by a fair margin the year-over-year home price growth in the two cities (around 30 per cent in Vancouver, 15 per cent in Toronto)—and this boom could be Canadian developers' long-delayed response to the inflamed demand in the country's two hottest housing markets, observers noted.
"Large inflows of permanent immigrants (about 240,000 in the past year) coupled with the misfortune of commodity-producing regions have redirected … population migration flows towards Toronto and Vancouver,"
National Bank
economist Stefane Marion stated.
On the other hand, the rash of new projects might just be another indicator that Canada's real estate sector is continuing to spiral out of control.
Specifically, the growth in the number of housing starts and sales could be attributed to the increasing prevalence of flipping, analysts warned.
"If speculation is padding demand today and results in overbuilding, then a correction could be more painful than in the past," Bank of Montreal economist Sal Guatieri said in a recent note.
Related Stories:
B.C. slowdown moderates Canadian housings starts in May
Housing sector continues to support flagging economy