The province saw sales records broken left and right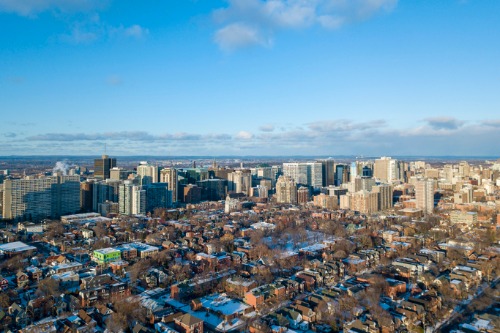 Significantly improved consumer confidence and record-low borrowing costs pushed Ontario's home sales market to new heights in February, according to regional and city real estate boards.
With significant momentum built up over the last few quarters, the province's home sales activity had a 36.3% annual gain for a total of 21,518 units sold through MLS Systems in February. This marked the first time that Ontario sales have broken through 20,000 transactions during a February.
The market's year-to-date sales also reached a peak of 35,344 units, up by 33.6% from the first two months of 2020.
Ontario's average home sales price last month stood at $864,159, representing a 24.5% increase from February 2020. The province's year-to-date average price was $837,731, up by 25.4% annually and exceeding $800,000 for the first time ever.
Toronto
Amid intensifying competition, the city saw 10,970 sales through the Toronto Regional Real Estate Board's MLS System in February, amounting to a year-over-year gain of 52.5%.
And defying grim analyses of the property type's decline, the condo apartment segment was the strongest asset class in the market last month with a 64% annual sales increase. Similar rates of increase were also observed in the "416" and "905" area codes, the TRREB said.
The average selling price of a home in Toronto grew by 14.9% to $1,045,488. Most of the growth came from the detached, semi-detached, and townhouse segments in the suburbs, with annual gains exceeding 20%.
"It's clear that the historic demand for housing experienced in the second half of last year has carried forward into the first quarter of this year with some similar themes, including the continued popularity of suburban low-rise properties," said Lisa Patel, president of the TRREB. "It's also evident that the supply of listings is not keeping up with demand, which could present an even larger problem once population growth picks up following widespread vaccinations later this year and into 2022."
Ottawa
The market's home sales had a 23% annual increase for a total of 1,390 deals last month, data from the Ottawa Real Estate Board showed. Of the February transactions, 1,028 were in the residential-property class (up 24% year over year) and 362 in the condominium-property segment (up 19%).
Condos had a 17% annual increase in sales price to reach $407,671, while residential-class properties saw their value increase by 27% to settle at $717,914.
Both classes now have less than a month's supply, with residential homes averaging 14 days on the market before being sold, and condos averaging 22 days.
"Resale properties are virtually flying off the shelves," said Debra Wright, president of the Ottawa Real Estate Board. "There is no denying that scarcity is leading to a more rapid price acceleration. This scarcity combined with buyers' willingness to pay and compete in this market will continue to drive up the sales prices."
Kitchener-Waterloo
Sales activity in the area increased by 27.8% annually to 597 transactions in February, according to the Kitchener-Waterloo Association of Realtors. Detached housing accounted for 337 of these deals (up 23.9% year over year), while condos saw 101 deals close last month (up 57.8%). Townhouses had 112 sales (up 13.1%), and semi-detached homes had 47 transactions (up 46.9%).
A total of 737 new listings were added to the market's MLS System last month, representing a 21% increase from February last year.
The average home sales price in the market increased by 32.1% year over year to $752,289.
"Competition for homes continued to be extremely intense in February, leading to a record-breaking number of home sales for the month," said Nicole Pohl, president of KWAR. "We continued to see dramatic increases in the average price in February due to the persistent and fierce competition for homes in our region, combined with short supply."
Guelph
A total of 485 homes were sold through the MLS System of the Guelph and District Association of Realtors in February, 33.2% higher than the activity level during the same month last year. New residential listings had a similarly robust showing (up 35.7% annually), while active listings continue to decline (down 26.7% year over year)
The overall benchmark price of Guelph homes was $734,000, representing an increase of 26.3% from February 2020.
"Home sales weren't the only figure hitting a new record last month – new listings also reached the highest level of any February in history, providing some much-needed supply to the market," said Sabrina Essery, president of the association. "However, given the current strength in demand and the appetite of homebuyers this new supply did little to raise the level of available inventories, which are still sitting at record lows. With fierce competition among potential buyers for anything going on in the market now, it's no surprise that price gains have actually accelerated, and price levels continue to reach new highs."
Barrie
The city's home sales activity grew by 34.5% annually to reach a new record of 569 transactions in February. During the same period, new listings increased by 34% for a total of 839 newly listed homes, while active listings sharply dropped by 50.3% to 392 properties for sale.
The overall benchmark home price in Barrie was $685,800, having gained 33.8% year over year.
"We've only had two times in history where sales in the month of February have just peaked above 400, and now sales in February 2021 broke the 500 mark," said Chantal Godard, president of the Barrie & District Association of Realtors. "The incredible surge in sales was very much due to a wave of new supply coming back to the market, with new listings posting the highest February in almost 30 years. This helped to take some of the pressure off the market balance. But make no mistake: even with inventories stepping up from record lows, price gains strengthened even further in February."