Central bank also announces new measures to ease pressure on borrowers amid pandemic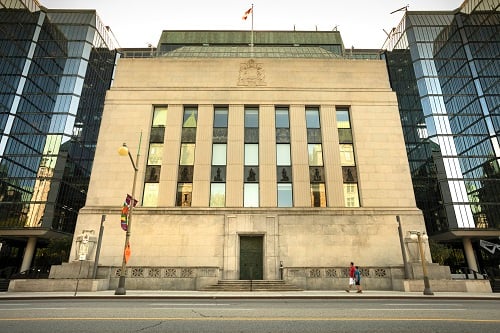 The Bank of Canada announced that it will maintain the overnight rate at 0.25%, which it considers its "effective lower bound."
The BoC has lowered its target for the overnight rate an unprecedented three times in March to support an economy reeling from the impact of the COVID-19 pandemic.
"For its part, the Bank of Canada has taken measures to improve market function so that monetary policy actions have their intended effect on the economy," the BoC said in a statement. "This helps ensure that households and businesses continue to have access to the credit they need to bridge this difficult time, and that lower interest rates find their way to ultimate borrowers."
Read more: Big Six banks cut prime lending rates yet again
While the overnight rate was maintained, the BoC announced several new measures to ease the pressure on borrowers amid the pandemic – including the purchase at least $5 billion in Government of Canada securities per week in the secondary market, as well as increasing the level of purchases as required to "maintain proper functioning of the government bond market." The BoC is also temporarily increasing the amount of treasury bills it acquires at auctions to up to 40% percent.
Additionally, the bank announced the development of a new provincial bond purchase program of up to $50 billion to supplement its provincial money market purchase program. A new corporate bond purchase program, in which the BoC will acquire up to a total of $10 billion in investment grade corporate bonds in the secondary market, was also revealed. Both of these programs will be put in place in the coming weeks.
The BoC also said that it is enhancing its term repo facility to permit funding for up to 24 months.