Central bank introduces two programmes to strengthen economy in the wake of COVID-19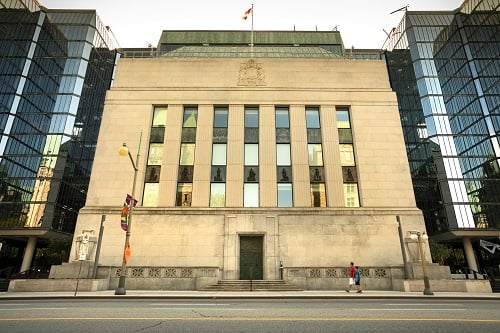 For the third time this month, the Bank of Canada cut to the overnight rate, this time slashing off 50 basis points to a new level of .025%. The Bank Rate is correspondingly 0.50% and the deposit rate is .025% percent.
In a press statement, the central bank said this "unscheduled rate decision brings the policy rate to its effective lower bound and is intended to provide support to the Canadian financial system and the economy during the COVID-19 pandemic."
The BoC also launched two programmes designed to address the economic chaos created by COVID-19: The Commercial Paper Purchase Program (CPPP) is designed to "alleviate strains in short-term funding markets and thereby preserve a key source of funding for businesses," while the second initiative will have the BoC acquiring Government of Canada securities in the secondary market, beginning with a minimum acquisition of $5 billion per week across the yield curve.
"The program will be adjusted as conditions warrant, but will continue until the economic recovery is well underway," the BoC said, adding that its balance sheet "will expand as a result of these purchases."