According to the CMHC, 75% of Vancouver's price gains are tied to fundamentals, versus 40% in Toronto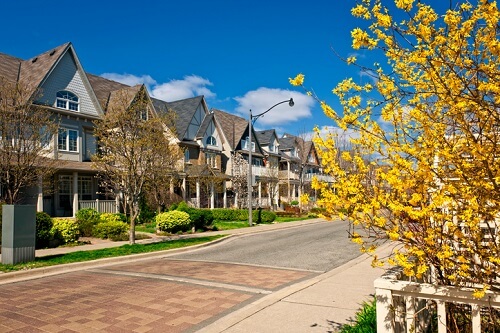 Conventional economic factors including population, incomes and borrowing costs accounted for less than half of the 40% surge in Toronto home prices between 2010 and 2016, according to a Canada Mortgage & Housing Corp. study obtained by Bloomberg through a freedom of information request.
Supply constraints, and to a lesser extent speculation and investment, accounted for most of the rest of the gains, although a lack of high-quality data about the availability of land made firm conclusions hard to draw.
The report detailed the "puzzling" dynamics of the Toronto market and suggested factors other than demand are driving prices higher, leaving Prime Minister Justin Trudeau few options to ease the affordability crisis. It may also mean more needs to be done to promote supply and curb speculation, issues more readily dealt with at the municipal level.
"While price increases in Vancouver have largely been supported by economic fundamentals, a more puzzling result points to the state of the Toronto market, where fundamentals haven't been as strong," CMHC analysts wrote in the 134-page study prepared for Families Minister Jean-Yves Duclos.
The report supported Bank of Canada Governor Stephen Poloz's view that interest rates aren't the best tool for dealing with potential housing bubbles. CMHC found about three-quarters of Vancouver's price gains were tied to fundamentals, versus 40% in Toronto, suggesting the latter city is an isolated trouble spot, another argument against using monetary policy, which has widespread effects, to bring prices down.
Duclos commissioned the review in June 2016 and has sought further updates for a final version expected soon that will help shape a new national housing strategy, his spokesman Mathieu Filion said by email. "This is an important report as Minister Duclos has said on many occasions that we are missing important data on housing and all good policies need to be developed with valid data," Filion said.
Wealth and income inequality are likely important drivers for the large price moves in higher-priced detached homes, the report said, because industries that cluster in big cities and offer high-paying jobs can feed the prices for the more expensive properties.
The supply side also offered important clues. The stock of housing in Toronto and Vancouver was much less responsive, or what economists call elastic, to rising prices, the report said. "Supply challenges including land supply and zoning regulation emerge as factors that contribute particularly to high priced markets."
There are also few signs that builders are in a genuine struggle to keep pace with rising demand, which would typically lead to a surge in provincial construction wage rates.
Related stories:
Toronto home values have more than doubled since the recession
Toronto among global cities most at risk of housing bubble, new report suggests