The central bank has now raised its benchmark rate three times in 2022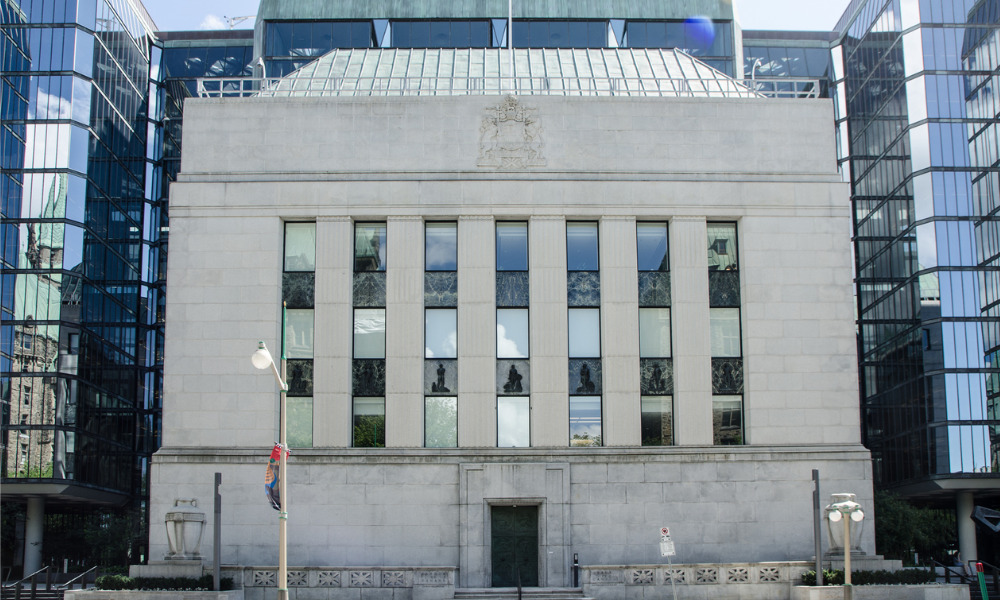 The Bank of Canada has raised its trendsetting interest rate by 50 basis points, marking its second consecutive oversized hike – and third overall increase this year – as the central bank grapples with inflation that currently sits at a three-decade high.
The 0.5% increase to that benchmark rate brings it to 1.5%, the latest step in the Bank's efforts to get consumer price growth under control, and means that it has now hiked the rate at each of its last three announcements.
In remarks accompanying today's news, the Bank indicated that inflation continued to persist "well above" target levels and was expected to increase in the near term – meaning further rate hikes will be required.
"The risk of elevated inflation becoming entrenched has risen," the central bank said. "The Bank will use its monetary policy tools to return inflation to target and keep inflation expectations well anchored."
Two successive oversized rate hikes in April and June, arriving after a 25-basis-point increase in March, signal a further departure from the strategy pursued by the Bank for nearly two years after the COVID-19 pandemic struck.
Amidst public health restrictions, work-from-home orders and business closures throughout multiple waves of the pandemic, the Bank kept its policy rate at a rock-bottom 0.25%, a record-low-rate environment that partly spurred a homebuying frenzy among Canadian borrowers.
Still, while two consecutive oversized hikes are unusual by the Bank's standards – it had not raised its rate by more than 0.25% for over 20 years prior to its April decision – the move was widely anticipated on Bay Street, with the central bank having long telegraphed its intention to move decisively against inflation.
Read next: A Canada housing crash? Don't count on it, says RBC economist
At the end of April, the Bank's governor Tiff Macklem said it would move "forcefully" to curb inflation whose longevity has belied the central bank's earlier confidence that it was largely a transitory issue.
Statistics Canada reported in recent weeks that inflation had ballooned by 6.8% in April compared with the same time last year, remaining well above the central bank's 1-3% target range and all but confirming that further rate hikes were coming down the line.
Speaking in Montreal on May 12, the Bank's deputy governor Toni Gravelle said a "perfect storm" of factors had helped boost inflation including supply chain disruptions and Russia's invasion of Ukraine.
"We are confronted with an economy that is showing clear signs of overheating, very tight labour markets and this perfect inflationary storm of global events and preference shifts," he said.
"All of this means that our policy rate, at one per cent, is too stimulative, especially when inflation is running significantly above the top of our control range."