Plus: How to navigate home appraisals during Canada's volatile housing market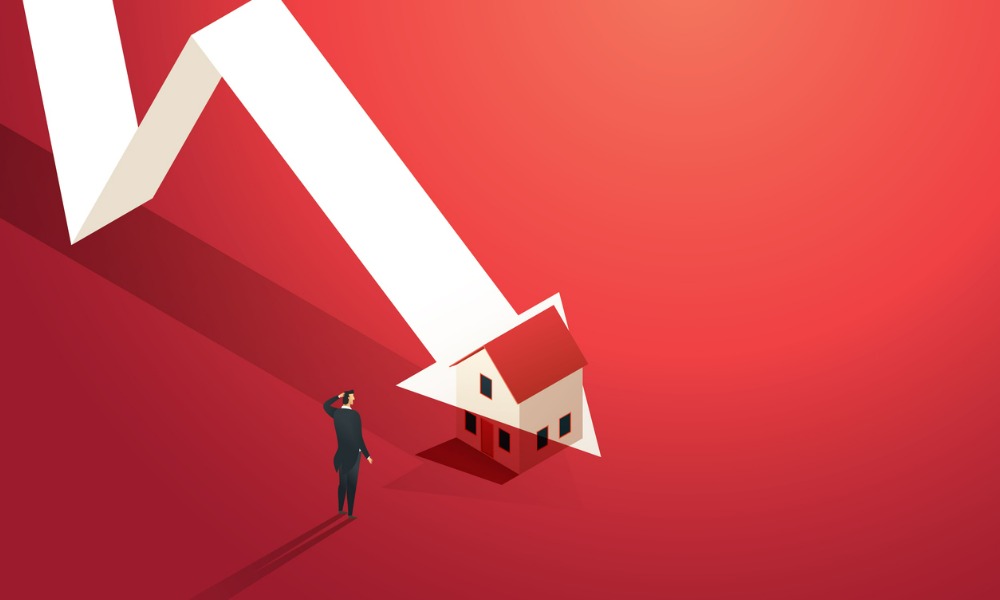 Is Canada's housing crash imminent? Mortgage experts are saying—not so fast. While housing prices are dropping, we are still up historically. Here is what is happening to Canada's housing market and here is how you can navigate home appraisals.
Are home prices in Canada falling?
In the current economic environment of rising interest rates, home prices in many cities across Canada have fallen month over month. Despite this current trend, however, home prices are still significantly higher than they were at this same time in 2021. According to the Canadian Real Estate Association, the average national home price sat at around $746,000 in April—which was 7.4% higher than in April 2021. That was despite the effect that higher interest rates have had on the housing market.
The Greater Vancouver Area, for instance, saw detached home prices drop just 0.4% since April—however, that is still more than 15% higher than it was last year during the same period. For attached homes, the prices rose 21.5% compared to those in May 2021, despite dropping 0.6% since April, according to the Real Estate Board of Greater Vancouver.
Meanwhile, in Toronto, home sales fell nearly 40%, even though they had risen nearly 10% since May 2021 and last month, the Toronto Regional Real Estate Board said.
What are experts saying about the likelihood of Canada's housing crash?
Many experts in Canada's mortgage industry appear unconvinced that Canada will experience a full-blown housing crash. Instead, experts have told Canadian Mortgage Professional that the low-rate environment during the early part of the COVID-19 pandemic has spurred the inevitable drop the market is currently experiencing toward more normal levels.
In other words, the unsustainable pace set in April 2020 has tailed off, but Canada's housing market is still seeing high standards historically. "The last couple of years, we've been going at 150 km/h down a 100 km/h highway, and right now we're slowing back down to around that 100-120 km/h range," explained Shubha Dasgupta, president and CEO of the Pineapple broker network. "So really, we haven't even dipped below the speed limit yet. We're still above it—we're breaking in and around that, but it just feels like we're going a lot slower."
Christelle Mwamba of Mortgage Scout agreed. "I want to make sure everybody knows we are not going to crash," she said. "We're not crashing—it's just a correction. It's really important for people not to focus too much on the headlines and actually be knowledgeable."
What will happen to home appraisals amid Canada's volatile housing market?
Due to Canada's volatile housing market, brokers and clients alike are being forewarned that home appraisals may come in at significantly lower values than the listed or agreed price. This warning also applies to brokers and clients who agreed on purchase prices as recently as the middle of February, according to Home Value Inc.
Despite home prices rising year over year in the Greater Toronto Area, or GTA, home prices dropped three months in a row, in some areas more dramatically than others. In the Kitchener-Waterloo region, for instance, the average price of a detached home is roughly $200,000 lower than it was in February. And across the GTA, average home prices in May were $121,000 less than they were three months before.
What should you do if your home appraisal comes in at a significantly lower value?
If your home appraisal comes in at a significantly lower value amid Canada's housing market volatility, you could speak with the realtor and real estate lawyer to figure out if you can whittle down the property price. This option would apply especially to anyone whose appraisal means that you fail to secure a large enough mortgage to cover the payments on the property.
If you required an appraisal on a property that you are refinancing, it is important that the house looks especially presentable and approachable, says Leah Zlatkin, mortgage broker and LowestRates.ca expert, who added that you should also highlight your home's features to any appraiser that comes through the property.
Brokers can also trigger an automatic valuation model, or AVM. This would be a good option if you are doing a refinance and need less than the property value for the mortgage. For instance, if your property is worth $1.15 million but you need roughly $400,000 in mortgage money, you can value the property at less than $1 million to secure an AVM instead of meeting with an appraiser. Because current market conditions mean there is usually a longer wait time for an appraiser, this can be a particularly good option.