Clinton Wilkins has hit the heights in Canada's mortgage industry through perseverance and a strong client focus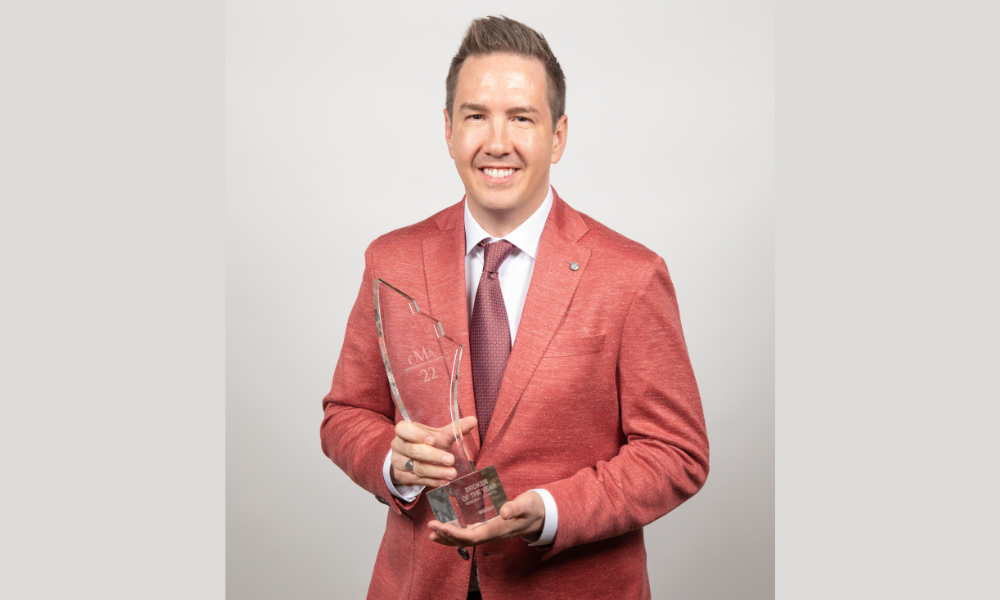 Being crowned the year's best mort-gage broker across the whole of Canada is in itself no small feat. But it's an achievement that's all the more laudable when operating from Atlantic Canada, a region that's far from the red-hot activity and skyrocketing prices of the country's two most headline-grabbing markets, Ontario and British Columbia.
Clinton Wilkins could have been forgiven for thinking that picking up that 2022 Canadian Broker of the Year gong at the recent Canadian Mortgage Awards in Toronto simply felt like business as usual. After all, the Dartmouth, Nova Scotia–based broker – head of the Clinton Wilkins Mortgage Team – has amassed an enviable haul of honours throughout his career, notably as a frequent member of CMP's Top 75 list recognizing the brokers with the highest volume achieved each year.
Still, collecting the award in front of a sold-out crowd at Toronto's Liberty Grand clearly meant a lot to Wilkins – and "maybe a little more" coming from Atlantic Canada, he said.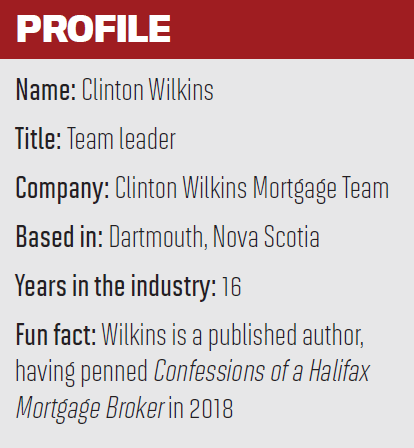 "It's really amazing that we can compete on a national level, and I think it just shows our determination and our will, [and those of ] our clients, lender partners and teams," he told CMP in the aftermath of that win.
The award added to Wilkins' three wins (2018, 2019 and 2020) as Broker of the Year (Fewer than 25 Employees) at the CMAs, while he also picked up the regional award for Atlantic Canada at the 2022 ceremony.
The secret behind his spectacular success? Taking the time to master the art of mortgage brokering, according to Wilkins, as well as establishing a reputation as a specialist in a particular niche of the mortgage space.
"Starting small and becoming that subject matter expert in your area is so important," he explained. "Really honing your craft and perfecting it is the way to go. Sometimes we're so busy trying to be every-thing to everybody, and I think being more highly specialized is going to take you to the next level."
Rise through the industry
Wilkins' nearly 16 years of experience in the mortgage industry began with stints at various smaller brokerages before he took the step of founding the Clinton Wilkins Mortgage Team in early 2009. His team has achieved phenomenal volume since that landmark, a level of performance that's been underpinned by laser-like focus on customer service and paying attention to the needs and individual circumstances of each client, rather than simply prioritizing the bottom line.
"I don't really think of myself as just a mortgage broker anymore – I think of myself as a good listener and relationship builder that happens to do mortgages full-time," Wilkins told CMP in 2020.
"My goal is to listen to what issues people are facing in the financial industry and help educate to improve consumers' financial wellbeing."
That's an important task, he said, because education in the mortgage industry can tend to highlight a firm, instead of providing useful and unbiased advice. "A more informed consumer makes better decisions, which is good for the industry as a whole," he said.
Unprecedented times
Some of the most important traits that have helped Wilkins navigate the choppy economic waters of recent times have been perseverance and trust in the process – qualities that unquestionably came to the fore at the outbreak of the COVID-19 pandemic with all the challenges it brought.
Public health restrictions, a work-from-home revolution, rapidly changing news on the economic front, and a sudden housing market boom all contributed to a perfect storm of conditions that presented both hurdles and opportunities for brokers and their clients alike.
Facing that environment head-on rather than being daunted by the new circumstances was crucial to success in the pandemic era, Wilkins told CMP.
"I think we've weathered a lot of storms over the last 18 months," he said in April. "There have been some people who may have retracted because business was maybe more challenging, but in this industry, if you put some effort in, you certainly get some results … I've never worked so hard as I have over the last couple of years."
Brokers have demonstrated their value during that time, he said, because of their ability to build a long-term relationship with clients, setting them apart from the "one-and- done" approach that might prevail elsewhere.
"Our job is really to be the champion for the clients," Wilkins explained. "With us, if we do a transaction and the client's not happy, or they felt like they didn't get good advice or a good rate, they may not come back.
"For us, it's that relationship: we want that repeat, and that referral business. If you really want that service and advice, the savvy consumer is always going to go to the mortgage broker."
Brokers' ability to access alternative and private lenders – options that aren't open to major banks – gives them another unique value proposition for mortgage customers, according to Wilkins, allowing them to assess the entire picture of a client's income, assets and credit and provide a tailor-made solution based on their specific circumstances.
That ability proved especially indispensable during the past two years, when market activity was at its height and buyers faced an often-anxious wait at various stages of the mortgage and purchase process.
"Being able to make an offer with confidence is really important, and that's where we come in," Wilkins said. "It's not just getting a rate hold in place. When we do a pre-approval with a client, it's really that prequalification to make sure everything's going to be good.
"There are always going to be situations where things are challenging, but we can work through that with the clients."