Jump to winners | Jump to methodology | View PDF
EXCELLING IN A TURBULENT YEAR
For brokerages across Canada, 2020 was a year like no other in living memory. In many respects, it was a perfect storm: Just as activity in the mortgage market was heating up rapidly, the pandemic was forcing countless brokerages to radically rethink their working model as in-person interaction with both colleagues and clients effectively came to an end.
That new reality presented a unique and evolving set of challenges for brokerages across the country. Companies had to deal with a dramatic uptick in mortgage volume, all while adapting swiftly to the need to operate a business and manage staff in a remote setting. What's more, as the market continued its red-hot pace throughout the year, many brokerages were tasked with managing growth and onboarding agents smoothly during what proved to be a relentless period for the industry.
Canadian Mortgage Professional set out to find the brokerages that managed to find success against that backdrop, identifying the companies whose performance stood out during these turbulent and complex times. CMP's 2021 Top Brokerages report is a testament to the effort and tenacity of the brokerages that rose to the challenge and produced outstanding results across the board last year – emerging as best-in-class in the industry through funded volume, number of transactions, year-over-year growth, and average funded volume per broker.
As Canadians' interest in the housing market rose during the pandemic – whether because of the work-from-home revolution or an inability to spend on travel and other leisure pursuits – many mortgage brokerage witnessed a surge in volume, a fact that's underlined by the record numbers posted by this year's Top Brokerages.
The average volume funded across the 2021 Top Brokerages skyrocketed to more than $823 million – a significant increase over 2020's average of $642 million. That spectacular performance cemented these companies' status among Canada's leading brokerages – and in the mortgage industry, there can be few more satisfying accolades.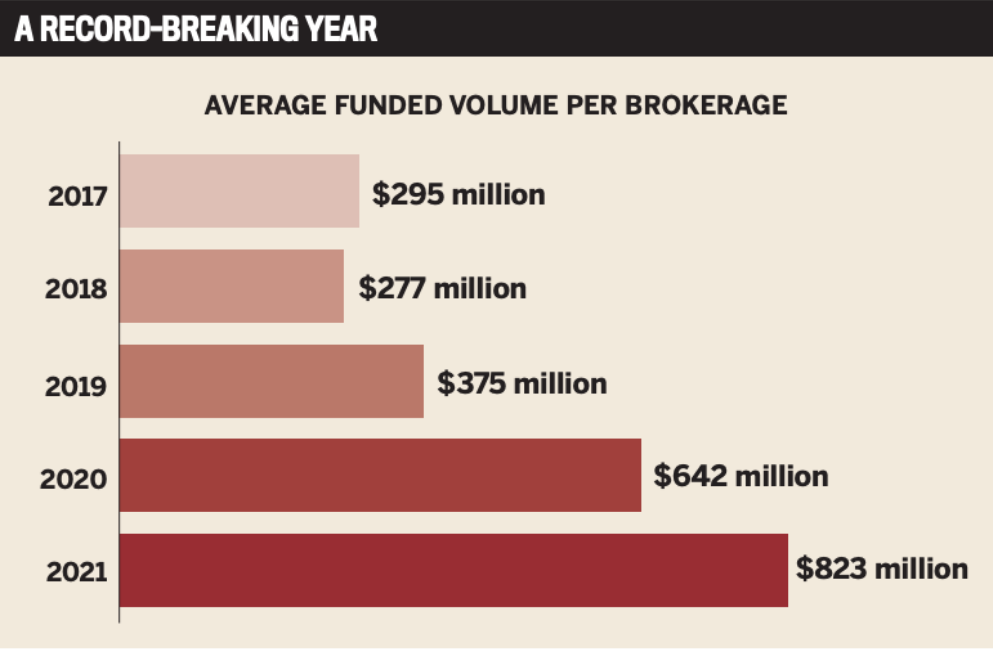 Handling the volume surge
Because 2020 was such a barnstorming year in the mortgage market, it's hardly surprising that one of the biggest challenges identified by this year's Top Brokerages was hiring quickly enough to keep up with the red-hot pace of the industry. The task of bringing in new staff and getting them acclimatized to the brokerage – a crucial one at the best of times – assumed even greater importance in a frenetic mortgage market, as new hires were required to hit the ground running quickly and effectively.
Tristan Kirk, CEO of Citadel Mortgages, emphasizes that it's essential for brokerages to continue to prioritize their hiring processes and make sure they're bringing in the right people – even when there's an urgent need to add new staff.
"Invest in your hiring process if you want to find good people," Kirk advises. "Get the tools and resources you need so that when you spend time with that person on the phone or Zoom, you know that they've checked the boxes to get there."
Len Lane, owner of Brokers For Life, notes that it can be a challenge to find experienced candidates to bring on board, so brokerages should ensure that their training is comprehensive and consistent.
"Make sure that the people you have in place are well trained – and continue to train," he says.
Keeping pace with the market also proved to be a significant challenge throughout the year. Michelle Campbell, principal broker at Mortgage District, says adaptability and flexibility during busy times are key components of a successful brokerage.
"You have to stay current, stay nimble and be able to pivot so that you're able to adapt to the fast-paced, changing market," she says. "Scheduling revisitations of best practices and going back to the basics are key."
Kirk says it's also important for brokerages to have a clear structure in place to handle increased volume when it arises.
"When service levels increase, you have to be able to delegate or have a team in place that can help you with different areas of the business," he says. "I think as an industry, we need to be more realistic with ourselves. If you have a couple of assistants or create a smaller niche team and everybody excels at their own part, you'll be OK."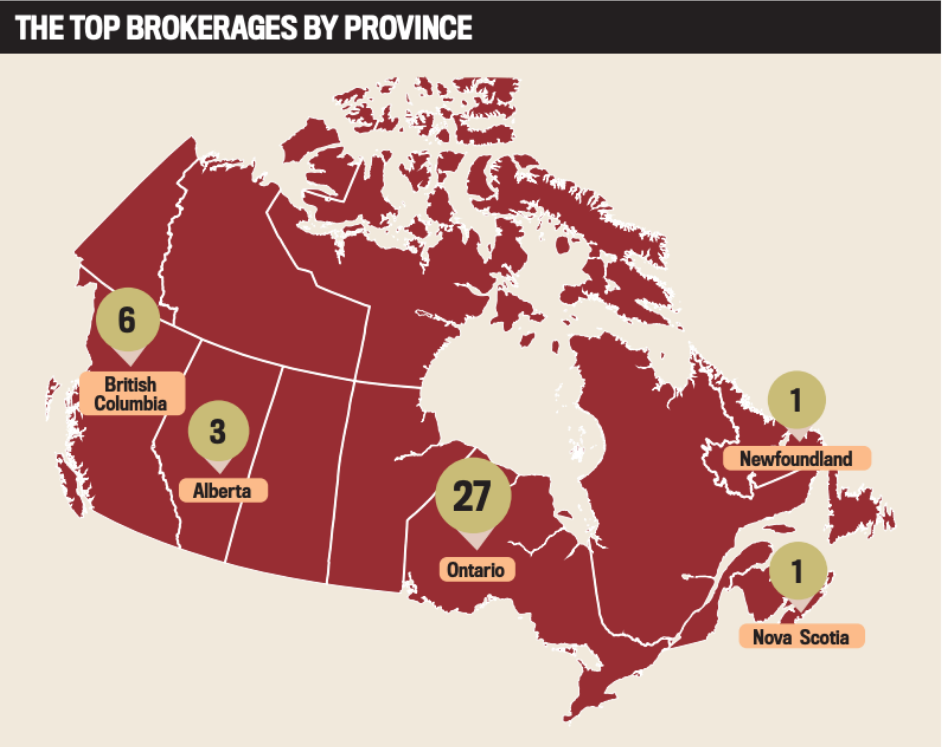 Turning to tech
Technology assumed enormous importance during the pandemic; many of this year's Top Brokerages said ensuring their digital solutions were up to speed was one of the biggest challenges of the past year.
Lane stresses that it's essential to keep the client's preferences firmly in mind on the technology front.
"Simplicity is sometimes one of the things that people look for," he says. "[Despite] automation of systems, we're finding kickback from clients who still want to talk to you. If you take it too far with technology, it's not a good thing all the way around for clients to experience."
Where remote solutions are necessary, Campbell also emphasizes the importance of making sure colleagues and staff don't become isolated.
"Being creative, having some virtual social events and personal touches [is important]," she says. "Make sure every team member feels important – you have to constantly be on your toes."
1. True North Mortgage
2. KeyRate Corp.
3. CanWise Financial
4. SafeBridge Financial Group
5. Clear Trust Mortgages
6. Premiere Mortgage Centre
7. Bespoke Mortgage Group
7. TMG The Mortgage Group
8. Mortgage Brokers Ottawa
9. Smart Debt
10. VERICO Xeva Mortgage
11. 8Twelve Mortgage Corp.
12. DLC Entrust Mortgage
13. Rock Capital Investments
14. Key Mortgage Partners
15. Assured Mortgage Services
15. Neighbourhood Dominion Lending Centres
16. Pineapple
17. The Mortgage Coach
18. Concierge Mortgage Group
19. Lamarche Mortgage Team
20. VERICO The Mortgage Professionals
21. Elite Lending Corp.
21. Jayman Financial
22. Durhammortgage.com
22. East Coast Mortgage Brokers
24. Homewise Solutions
25. The Genesis Group
26. Valko Financial
27. Mortgage District
28. Brokers For Life
28. VERICO Superior Mortgage
29. Homeguard Funding
30. AKAL Mortgages
31. Citadel Mortgages
32. Mortgage Commitment
To find this year's Top Brokerages, CMP invited brokerages across Canada to submit details about their performance in 2019 and 2020, including total transactions and total volume funded. To be eligible, brokerages must have five or more loan writers in at least one office headquartered in Canada.
The final ranking of Top Brokerages was weighted across four areas: growth in volume funded between 2019 and 2020, average volume funded per broker, total volume funded within a 12-month period, and number of transactions. Nominated brokerages were ranked in each of these areas, and these rankings were then combined to determine each brokerage's final placement on the list.