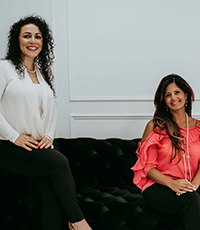 Network: Real Mortgage Associates (RMA)
Location: Toronto, ON
Mortgage Savvy supports homeowners and investors alike as they navigate the ever-evolving world of mortgages, providing sound advice to help them build their real estate portfolios. Since the company's infancy, broker of record Rakhee Dhingra has invested in developing strategic partnerships with the industry's leading Realtors, which has propelled the Mortgage Savvy vision into a full-blown movement.
By investing in what she does best – meeting with clients and underwriting mortgages – Dhingra was able to fund 194 mortgages worth $91.4 million in 2019, with the support of director of operations and mortgage agent Nicole Farrugia. To date, the brokerage has exceeded its 2020 volume goals.
The Mortgage Savvy mindset is that collaboration and sharing are key. Over the last six months, Dhingra and Farrugia have focused their attention on building relationships with new Realtors across the country. They strive to help others succeed during tough times and have established new bridges for building rapport in the era of social distancing.