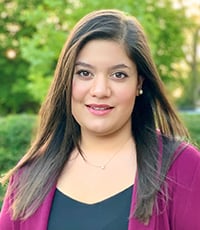 Underwriter
First National Excalibur
Location: Toronto, ON
Age: 27
When she was in her third year of university, Warda Fatima landed an internship with Home Trust in its EquityLine Visa department. "As a finance student, the mortgage industry felt like a great fit," she says. After two summers with Home Trust, Fatima was offered a mortgage officer position; six months in, she began underwriting B loans. Over the last five years, she has worked for three different lenders and diversified her skill set by underwriting both A and B mortgages. She joined First National's Excalibur team in 2018.
"I was excited to be part of a new product for a reputable company and return to the alternative lending space," Fatima says. "My role enables me to be creative by working with my broker partners to discuss potential solutions, brainstorm different options and think outside the box. I feel empowered to share new ideas and suggest new procedures, and I like helping my manager come up with useful training materials that can help future employees. It feels great to be able to help build the culture and leave my footprint."