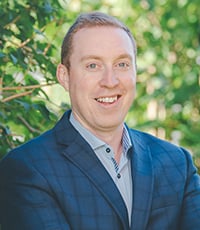 Director of alternative lending
Graysbrook Capital
Location: Halifax, NS
Age: 35
After spending nearly a decade in corporate sales in the consumer goods industry, Ryan MacNeil followed his entrepreneurial instincts and passion for finance and joined Graysbrook Capital in 2017. Since then, his funded volume has grown consistently year over year, and he was recently promoted to director of alternative lending.
MacNeil regularly hosts industry-wide professional development days across the Atlantic provinces and partners with brokers to host referral-sourcing sessions. He credits his success to the support of several mortgage broker partners and senior leaders, as well as the mentorship of Graysbrook Capital's founders, Owen and Derrick MacNeil.
"One of my key missions with Graysbrook is to educate brokers, and to educate clients on the importance of using a mortgage broker," MacNeil says. "Now it's more important than ever for brokers to understand and leverage alternative lending products. The landscape has dramatically changed over the last few months, likely permanently. Having these products available during times that are financially challenging for many will allow you to outpace the competition."