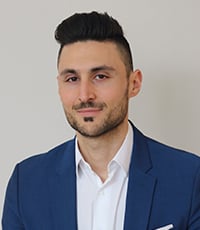 Managing partner, mortgage agent
DLC Clear Trust Mortgages
Location: Toronto, ON
Age: 34
Prior to joining Clear Trust Mortgages as a managing partner, Paul Occhiuto spent 15 years working for TD Canada Trust in a variety of roles, including retail banking, recruitment, product management and financial advice. During his time as a financial advisor, Occhiuto began doing home financing. This "ignited a passion, which led me to join the real estate secured lending group, where I focused on pricing and marketing our mortgages," he says.
From there, Occhiuto became a regional sales manager, leading a group of 25 mobile mortgage specialists for four years before joining Clear Trust. "Helping clients achieve their home financing goals is my inspiration and passion," he says. "My goal is to build off the Clear Trust culture and create a new standard in the mortgage brokerage world, where we provide supportive and progressive coaching to help develop our agents to become successful. The vision is to turn Clear Trust into the most successful brokerage in Canada."