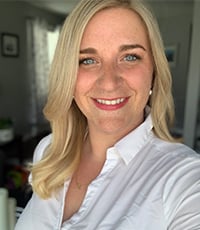 Mortgage broker, owner
APlus Mortgage Group/Mortgage Alliance
Location: St. John's, NL
Age: 35
After finishing her business degree, Nicole George joined her father's upstart mortgage company. Today, she is part owner of APlus Mortgage Group, a part of the Mortgage Alliance, and has increased her business year over year. A top-producing agent with Mortgage Alliance, George has received the Manulife Mortgage Protection Award and is ranked in the President's Club.
Looking ahead, she says she hopes to see more collaboration between mortgage industry leaders and the government. "I feel that a lot of changes happen in this industry at the government level with little to no real input from our industry leaders – not from lack of trying," she says. "I would like to see the people who make the decisions really listen to our industry and allow us to make this more collaborative to make sure the decisions being made will have the right impact in the market and for consumers."
Outside of her brokerage, George volunteers weekly at her local Daffodil Place, helping cancer patients set up practical resources.