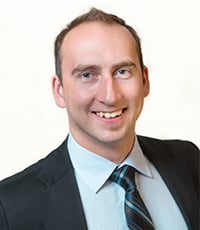 Owner and broker
East Coast Mortgage Brokers
Location: St. John's, NL
Age: 35
pon graduating from university, Leslie Penney was looking for a position in the financial services industry that would allow him to help others while controlling his own destiny. When an opportunity arose to become an independent mortgage broker, he jumped at the chance. Today, after more than a decade in the industry, Penney is a co-owner of East Coast Mortgage Brokers, which has been a two-time finalist for Top Brokerage – Atlantic Canada at the Mortgage Awards of Excellence and a 2019 Consumer Choice Award winner for mortgages in the St. John's market. Penney has also won numerous individual awards, including Verico's Chairman Award and national top-producing MPP Sales Award.
"I am an energetic, hard-working and dedicated mortgage professional who seeks to connect with people and my community," Penney says. "I've come to realize that it's difficult to grow your business without the right support and great people around you. When you want to live a balanced life, you need to be able to rely on others to help you achieve your goals, while also ensuring they have a fulfilling role and are working toward their goals as well."