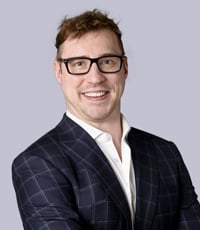 Mortgage agent
VINE Group/Mortgage Alliance
Location: Toronto, ON
Age: 28
Since joining the VINE Group at Mortgage Alliance in April 2019, Johnson Andrews has funded more than $10 million in volume, landing him in Mortgage Alliance's Top 20% Masters Club for 2019. Prior to becoming a licensed agent, Andrews spent two years as an underwriter with VINE Group, helping agents fund more than $500 million in residential, commercial and private mortgages. He also helped VINE Group build its underwriting team from the ground up.
In his brief time in the industry, Andrews has forged a high level of trust with his colleagues, lender partners and clients. "I believe that mortgages are more than just a transaction, and I pride myself on cultivating open communication and uncovering tailored solutions to meet the financial objectives of every client," he says. "Making sure the client can trust me, that I have their long-term interests in mind to help them become better off financially, and empowering them with information to help them understand the process have been key ingredients to my growth."