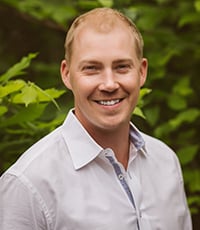 Mortgage agent
Invis
Location: Barrie, ON
Age: 34
After spending eight years at Manulife Bank, Jason McKague transitioned into mortgage brokering, seeking to help more people by representing more than just one lender. "This way, I'm able to offer more options for clients," he says. "I love what I do. It is extremely rewarding to know that all of your time and effort is going into growing something special."
In his last two years at Manulife, McKague was the bank's top consultant across Canada and was moved to Barrie specifically to be the local mortgage representative. He believes the key to continued growth in the industry is patience and perseverance.
"The more deals you work on, you build up that experience and ability to adapt," he says. "But you still always get, from time to time, a deal that seems to have a scenario you could never anticipate, so you have to continue to learn to have patience and perseverance."
Outside of his day job, McKague is an active supporter of Easter Seals and Big Brothers Big Sisters and is a mentor for the local Job Finding Club for Immigrants.