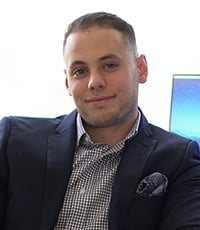 Mortgage broker
Premiere Mortgage Centre
Location: Halifax, NS
Age: 25
Beginning his career as a mortgage broker in 2017, Cyrus Habibi was mentored by his now-business partner, Jack Cameron, who imparted the knowledge he'd acquired over 15 years in the business. "That helped me take off in my career, and we continue to have a strong partnership and friendship," Habibi says.
Reflecting on his first year in the business, Habibi says he spent a lot of time meeting with people in the real estate industry to figure out what they liked or didn't like about the experiences they'd had with mortgage brokers and bankers. From these conversations, he tailored his business to be "very service-oriented and relationship-focused," he says. "I really focused on building relationships early on with strong referral partners, and I run my business entirely off referrals."
This model has led to two years of significant growth for Habibi; his current goal is to fund $35 million to $40 million in mortgages in 2020.