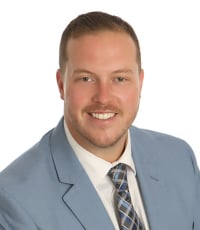 Mortgage professional
Verico Xeva Mortgage
Location: Kelowna, BC
Age: 34
After graduating from Simon Fraser University in 2010 with a degree in business administration and finance, Corey Wicks pursued a career in real estate, beginning with a Vancouver-area private commercial mortgage and equity company. After spending four years rapidly growing his industry knowledge, Wicks moved to Kelowna, BC, where he diversified his experience with commercial banking roles in both credit union and chartered bank environments. Two years ago, Wicks became a licensed mortgage broker and joined the team at Xeva Mortgage.
"I truly love helping friends, family, colleagues and new referrals with their financing goals," he says. "Having seen many clients struggle to enter the housing market this past year, I am encouraged by our industry's continued lobbying efforts and hope to see improved affordability and access to financing for first-time buyers."
Outside of Xeva, Wicks is an active member of 100 Brokers Who Care and several local organizations, including the Greater Westside Board of Trade, the Okanagan Agricultural Professional Group and the Okanagan Young Professionals Collective.