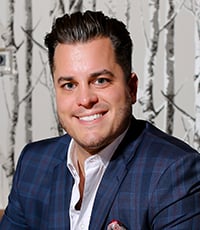 Mortgage agent
Capital Lending Centre
Location: North York, ON
Age: 33
After years of working in multiple business sectors as an entrepreneur, Chris Candusso pivoted into the mortgage industry in 2017. In his first three years as a mortgage agent, he has funded $100 million in volume and has ranked as a top 1% individual producer in the country. "My relentless passion to ensure my clients are given the highest level of expertise and service is at the forefront of my purpose in the mortgage industry," he says.
Reflecting on the past year, Candusso says he's learned the importance of constantly striving for improvement. "Perfect your craft, and once you think you've perfected it, take it to a whole new level of perfection," he advises. "If you want to be one of the best in your industry, you have to live and work with that mindset every day. If you're going to talk a big game to referral partners, you have to be able to back it up every single opportunity you get."