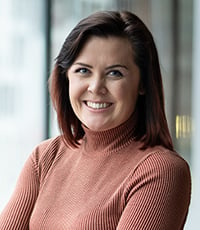 CEO, mortgage professional
Mortgages by Catherine/Verico Xeva Mortgage
Location: Kelowna, BC
Age: 29
Ever since she was young, Catherine Ellis has been passionate about financial literacy, helping others and running her own business. In 2010, she started a private lending company, which piqued her interest in the mortgage industry. In 2013, she received her broker certification and has since been working to become an agent of change within the industry by putting education and client experience first.
Throughout her career, Ellis has found innovative ways to connect with industry partners, clients and her community. She emphasizes personal growth and development, staying up to date on lender panels, educational sessions and conferences. This year, Ellis became a member of MPC's BC chapter; she is also a member of MBABC, Women in the Mortgage Industry and 100 Brokers Who Care.
Looking ahead, Ellis says she'd like to see a greater sense of community, internal leadership, team-building and education in the broker channel. "My hopes are that we can all work together, lift each other up, better our systems, challenge ourselves and our peers, and continue to educate one another to be better as an industry," she says.