Ryan Dennahower of Bespoke Mortgage Group is part of this year's Canadian Mortgage Professional's Hot List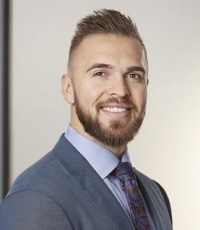 Amid a year filled with changes and uncertainty, Ryan Dennahower had an incredibly productive 2018: He grew his overall volume by 30%, and Bespoke Mortgage was honoured by CMP on its Top Brokerages and Top Independent Brokerages lists. Dennahower was also named a CMP Young Gun in 2018.
"As a Young Gun, I took the initiative to learn and be mentored from industry veterans who've gone down the path of success," he says. "A common theme was to hire an assistant or underwriter to help enhance the service delivered to my clients and increase efficiencies with lenders. That's exactly what I did, and I was fortunate enough to hire two amazing underwriters. The success we encountered in 2018 would not have been possible without either of them."
Dennahower is also known for his effective use of social media to highlight his brokerage's products and services and engage with potential clients. In addition, his company's membership with CIMBC has enabled Dennahower to leverage lender relationships to increase efficiencies and volume and achieve enhanced profitability.