Red & Co Finance's Jayden Vecchio shares his tips for success and lead generation with Top Broker's podcast host, Joshua Vecchio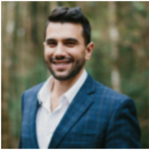 In the second of a series of fortnightly podcasts from Top Broker, Jayden Vecchio shares his tips for success and lead generation with Top Broker's host, Joshua Vecchio.

Jayden Vecchio is the director of Red & Co Finance and is based in Brisbane. He was the FBAA Commercial Broker of the Year in 2016.
Part 1: Habits of Success
In part one of this episode with Jayden, we're going to look at habits of success, from being mentored to managing the mind. These tips are going to make it easy for you to get ahead, take control of your business and create your own success.
Takeaway points:
Mentorship – a good mentor will give you direction and allow you to bounce ideas off them, sometimes you think there's a marketing trick when in actual fact it might be simpler than that.
Self-development, if you're not investing in yourself, you're missing out on a big opportunity.
Structuring – finishing the day before it starts, write down a list of things you need to do and only look at the high priorities so if you do veer off course you can identify it and get back on track.
Part 2: Simple Marketing Hacks to Generate Leads
In this episode we look at simple marketing hacks that generate you more leads, we then discuss the long game in marketing and what that means for you. By the end of this episode, you're going to feel pumped knowing how easy it is to generate new leads and marketing habits with these tips.
The main takeaway points from this episode are:
Engage in expert advice, you don't need to do everything, there are people out there who can help you hone your message and assist with your marketing.
Don't be all things to all people because, in the end, you become nothing to everyone.
Marketing doesn't need to be complicated, simple things like gym shirts and pens work well too!
This is the second in a series of fortnightly podcasts from Top Broker. Top Broker's vision is to rally mortgage brokers from across Australia, to share the industry's best practice to help brokers maximise client value, reduce their working hours and increase their overall settlements and profitability. Check out more on: https://www.topbroker.com.au/broker-blog/
Previous podcasts:
Dino Pacella