CoreLogic CEO Lisa Claes explains why being a role model is the most important leadership role of all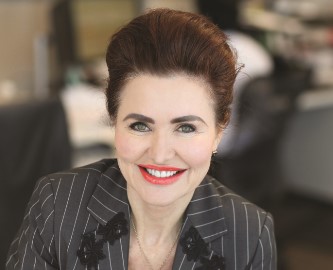 CoreLogic CEO Lisa Claes explains why being a role model is the most important leadership role of all
I've never approached my career with the view that I was climbing a ladder from bottom to top. Instead, I've sought out what interests me. Becoming a CEO has been a consequence of this approach rather than the ultimate goal; it's passion, not power, that's motivated me.
I inherited my work ethic from my mother, a real estate agent who has always been a huge role model for me. She operated at a time when gender bias wasn't spoken of and so she didn't ever consider it to be a barrier. Instead she was a powerful advocate of education and making connections, and her standards were incredibly high. I don't think she knew what the word 'impossible' meant. Growing up, I saw her as a successful small business owner and operator and thought it was a very normal way of life.
Lead the change
As women in leadership, we're in a position to positively influence change. There is much that we can do to encourage other women to get ahead, starting with being strong role models for young women in their formative years.
Sitting on the board at a girls' school, I still see a natural tendency among many young women to behave in ways that would be counterproductive to their progress in the real world. This includes a predilection to risk aversion and disqualifying themselves from opportunities because they lack confidence in their abilities.
As parents, teachers and leaders we need to be sensitive to these traits and to consciously create environments and activities that encourage women to take more risks, be comfortable with failure if it happens, and then have the confidence and courage to try again.
Learn and improve
Success is an evolutionary process that requires constant incremental improvements. I believe that learning should always feature in your journey, no matter what stage you're at in your career.
Throughout my working life, I have immersed myself in rich learning environments and looked for opportunities to expand my knowledge. From my early background in law to almost two decades in banking, and then more recently working across multiple geographies as a CEO, this diversity of experience has only enriched my understanding as an executive.
At the same time I've sought out people who have helped me bring my skills and strengths to the fore. I've always gravitated towards high performers because I've wanted to learn from them, and I've benefited from tough but fair bosses who have dished out candid but constructive criticism to help shape my path forward.
Earlier in my career, when I was transitioning from law to banking, I voraciously questioned my more experienced peers in order to better understand the intricacies of business. Most people are flattered and willing to help, so reach out for advice when you see an opportunity.
Nurture your talents and relationships
We all have an academic history, but you need more than just exam results to be successful. There will always be high demand for people with excellent numerical ability, communication skills, passion and drive, so nurture what you're good at and upskill where necessary.
Equally important is your ability to develop the right networks in the right environment. As a broker there is much you can do to put yourself on the front foot with clients, such as researching their backgrounds to help form connections and create trust. Know their business and the environment they are operating in, and be clear about the value you can add.
We need to invest wisely in our career futures, just as we do in our financial futures. By doing so, the 'asset' goes up – our quality of life improves, doors open, and we become better leaders, role models and contributors. The impact of this is extensive, benefiting not only the individual but wider society and the economy as a whole.
Finally, remember that success is a journey. There's nothing wrong with having a goal in mind, but don't get so caught up in it that you forget to focus on the process.
Real success will come from doing the best you can at any point along the way. Make sure you're always stepping forward, even if those steps are small. There are many variables on the path to success, but there are no shortcuts for hard work, self-reflection and a willingness to learn and adapt.


Lisa Claes is CEO of CoreLogic International, the largest property data and analytics company in the world. She was previously executive director of ING Australia and earlier in her career was a practising barrister