Offshoring offers a whole world of support, far beyond just cost saving. MPA and Galilee Business Support Services explain how you can get started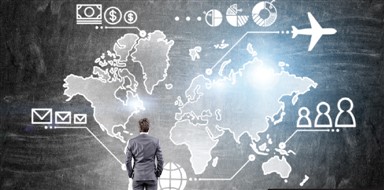 Among his many bizarre pre-election promises, US President-elect Donald Trump said he was "never eating another Oreo again". His reason was that Oreo's maker, Mondelez International Inc., was moving some production to Mexico in order to cut down costs.

Trump's biscuit boycott is emblematic of how we misunderstand offshoring as a tactic only available to big businesses, only about cutting costs, and inevitably hurting the business back home. None of these are true; in fact offshoring has evolved and is quickly becoming a viable option for small businesses. MPA, in partnership with Galilee Business Support Services (GBSS), investigates why looking abroad can do much more than save you money.

It's important to recognise the differences between offshoring and outsourcing. With offshoring "the client has full control of the workflow and of the staff and staff performance", says Michael Galilee, CEO of GBSS, which is based in Manila in the Philippines. While offering both options, GBSS is geared towards offshoring; they hire staff and provide offices, but the staff members are fully part of the companies they work for. Offshoring therefore provides more control, while still involving considerable savings, costing 50–60% of an Australian employee's wage, Galilee estimates.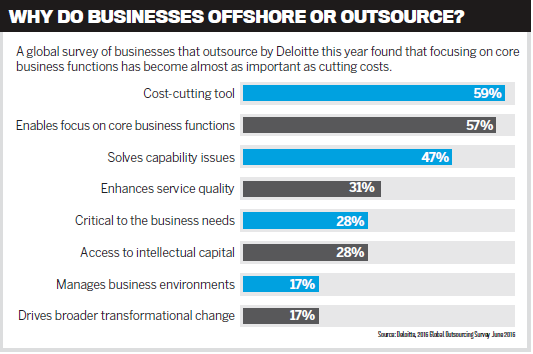 Offshoring itself can be divided into three areas, according to Deloitte and Chartered Accountants Australia, who published a report on the future of outsourcing in November 2015. GBSS's model is most similar to captive offshoring, where a business function is moved overseas but remains part of the organisation. There are joint venture models, where organisations form joint ventures with overseas service providers and transfer their functions into the new entity. Finally, offshore outsourcing involves the use of a third party offshore to provide services.

Two companies that have gone down the first route with GBSS are broking franchise Loan Market and non-bank Homeloans. When it came to broker support services Loan Market was faced with a difficult situation, explains COO Stephen Scahill. "There was essentially a gap between what existing providers were prepared to accept for these services and what brokers were prepared to pay." By offshoring data-entry and loan packaging services Loan Market was able to reduce its losses while offering brokers a significant discount for these services. Crucially, it did this without compromising its Australian business, Scahill adds. "We were not offshoring existing roles – we were broadening our array of services."

Homeloans was also looking to build "a platform for future growth", says general manager of operations Marianne Hannah. "The establishment of our operation in Manila has enabled us to achieve efficiencies that would not be possible in Australia." Homeloans' team in Manila work across processing and IT. According to GBSS boss Galilee, the most commonly offshored tasks are in IT, such as search engine optimisation, and broker support roles, with some smaller companies having just one or two staff in Manila.




"We were not offshoring existing roles – we were broadening our array of services" Stephen Scahill, Loan Market
In the case of Homeloans, the process of outsourcing was a quick one, taking just a number of weeks, explains Hannah. "GBSS assisted with the recruitment of staff (advertising, pre-screening), and we performed interviewing via video link." Their Manila team leaders were then flown to Australia for training. Loan Market, on the other hand, talked to several providers, opting for GBSS because if offered security when dealing with client details.

You could of course hire staff yourself, but that's far easier said than done. The Philippines is not an easy place to do business, being ranked 103rd for ease of doing business by the World Bank, behind Saudi Arabia and Nepal (Australia is 13th). "It's a very steep learning curve; it took us a few years to really get our head around how it all works," Galilee recalls. Beyond saving on costs, using a company like GBSS helps save on time, he says, which is one of offshoring's chief benefits.

Offshore staff may be out of office, but they shouldn't be out of mind, Galilee warns. To ensure good retention "you need the client back in Australia or New Zealand to really have good communication with the staff in the Philippines so they feel like an extension of the team". Loan Market's Manila staff attend broker conferences and are doing the Certificate IV in Finance and Mortgage Broking, according to COO Scahill. Subsequently, Loan Market's Australia-based staff have also been able to upskill, as they've been less burdened with basic tasks.

In fact upskilling – not just cost saving – is at the core of the offshoring proposition, Galilee believes. "It specialises your business. It pulls you back to what your business should be doing, the core function of your business. A lot of administration tasks take away from what your staff in Australia should be doing."
MESSAGE FROM OUR SPONSOR
GBSS are very proud of the fact that we have given our clients the opportunities and infrastructure to strengthen their core business functions back at home by adding support staff in Manila.

We are committed to not only providing quality staff to our clients but also providing facilities that are equal if not better than what you would get in many Western countries. We currently assist brokers, lenders, mortgage managers, in addition to other companies outside of the mortgage industry, and welcome businesses of any size.

Michael Galilee
CEO
Galilee Business Support Services