With rates dropping, refinancers are ready to shop around for a better home loan, but it's not all about interest rates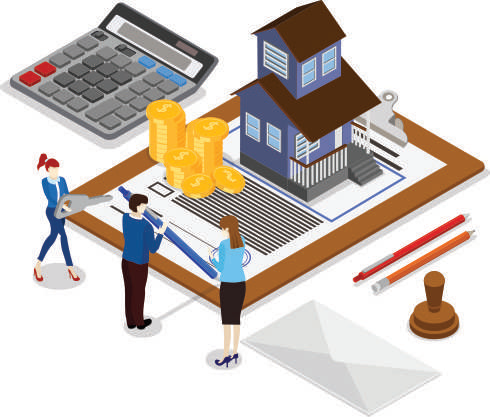 With rates dropping, refinancers are ready to shop around for a better home loan, but it's not all about interest rates. Brokers have a unique opportunity to help these borrowers fi nd the best product to suit their needs – and MPA asks four industry leaders what they need to keep in mind
Q: With banks dropping rates, are you seeing more people refinancing?
The Reserve Bank of Australia has dropped rates three times in the past year, meaning banks – which had been raising interest rates previously – began to cut back their rates. As this continues, borrowers are being encouraged to take a look at their current home loans to see if they can get a better rate elsewhere.
Sarah Willsallen, NSW/ACT state general manager in the mortgage broker distribution team at Westpac, says that with the historic cash rate lows there is strong competition in the market to attract and retain customers.
"We are certainly seeing an increase in activity at the moment, for both refinances but also for new purchases as the property market improves," she adds.
Non-bank Pepper Money is also seeing an increase in borrowers looking for better deals. General manager for mortgages and commercial lending Aaron Milburn says there is a huge opportunity for people who want to not only review their rates but also find solutions that are more flexible in order to achieve their goals.
This is where lenders like Pepper can shine. "We are seeing an increasing number of people seeking loans from lenders willing to take the time to get to know the client and offer solutions that meet their unique situation," he says.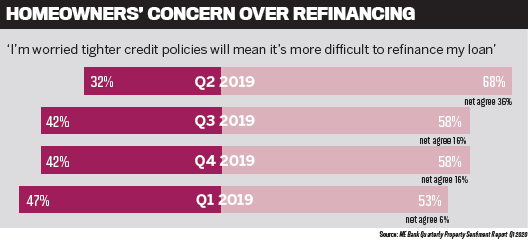 "At Pepper Money, we specialise in working on each individual application so we can fully understand the client's circumstances and objectives and how we can help."
It is not just the lower interest rates that have fuelled home loan refinance activity, says Bluestone's chief customer officer, James Angus. The market has also seen interest-only loans expiring and changes to serviceability affecting existing home loans.
"Home loan customers expect more from their lenders," Angus says. "Those lenders that can't offer a competitive rate to their existing customers will soon find themselves on the losing end of the refinance as the act of refinancing becomes a more acceptable means of securing a better deal – so much so that the RBA has taken the bold step of urging home loan customers to shop around to ensure they are getting the best deal."
Mortgage insurance provider Genworth has seen refinancing volumes pick up over the last 12 months, following a drop in the past decade.
Acting CEO Duncan West said this was potentially due to borrowers searching for the best rate they could get. Lenders mortgage insurance can help refinancers just as it can help first home buyers, when their loan-to-value ratio is above 80%.
"Brokers play an important role in educating their borrowers on LMI," he said. "On refinancing a loan, it's important for the broker to assist the borrower to work out how much they want to borrow and whether doing so makes financial sense given the additional costs involved.
"A mortgage broker can save borrowers time, effort and stress, given their access to hundreds of home loan product options with a wide range of lenders and credit providers across Australia. Brokers can show at a glance what rates and fees apply to the loan type you are interested in."
Q: Should people be refinancing more often?
While borrowers are being advised to shop around for better deals on their home loans, some people are urging caution. Grabbing a lower rate now could mean a greater struggle in the future if and when rates begin to rise.
But Willsallen says this is why it is important that brokers reach out to their clients, so they can help them understand the best options for their situation. With borrowers' circumstances changing so much over time, she believes there should be a regular review cycle in place to ensure their financial arrangements continue to meet their needs.
"This is about more than just rate and includes the features and benefits of their home loan arrangements," Willsallen says.
"They might move to a new stage in their career and find that they would benefit from an offset account; they might be planning a family and prefer the certainty of fixed repayments; or they may want to review the competitiveness of their interest rate.
"A mortgage broker can save borrowers time, effort and stress, given their access to hundreds of home loan product options" Duncan West, Genworth
"Refinancing is one option available to customers, but there are some complex things to consider, which is why customers benefit from the advice of an experienced expert like their mortgage broker."
Angus agrees that borrowers should be reviewing their loans regularly alongside their brokers to look at whether their existing loans still serve their purpose as well as they can. While the messaging right now is that the low interest rates make it a good time to refinance, he says even those already on a competitive rate could benefit.
"There are many reasons borrowers may choose to refinance their loans, not all of which are rate-driven," he says. "We see many borrowers refinance their loans to cash out equity for other life goals or consolidate unsecured debt. Other reasons to refinance may include a change in circumstances that means customers would like to access different loan features, like redraw accounts, a line of credit, or interest-only terms."
Echoing some of Willsallen's points, Milburn agrees that it is not just about refinancing for the best interest rates, adding that Pepper provides a technological tool to help brokers find the right product.
Pepper Product Selector allows brokers to identify a specific Pepper Money home loan product and its interest rate and fees for clients in less than two minutes.
"With rates and products continuously changing, there is an excellent opportunity for brokers to help customers decide whether refinancing is the best option for their circumstances," he says.
"It is not always about the best rate – it is about understanding what is important to the client, what their objectives are, and finding the right lender that meets those needs."
"Refinancing is one option available to customers, but there are some complex things to consider, which is why customers benefit from the advice of an experienced expert" Sarah Willsallen, Westpac
Q: How often should brokers be reaching out to past clients to look at their refinancing options?
With lenders recommending that borrowers continually revise their home loans, brokers need to be on hand as their 'trusted advisers'. Milburn says this is important because "if you're not talking to your clients, then someone else is".
"In real life, people's circumstances change," he adds. "It is important that brokers are in regular contact with their clients to ensure that they are keeping up with any life events and how they might impact their financing needs."
This comes with a warning to brokers, though, as he urges them to be conscious of the environment the industry is operating in.
"Customers are exposed to a large amount of messaging over multiple mediums – be it through Facebook, Google or TV," Milburn says. "People look to brokers to help them make sense of that information and understand how it might apply to them."
Brokers should be working with their borrowers ahead of any refinancing to better understand their credit position and potentially reduce any debts if that is needed, says West.
"Brokers can assist borrowers to save money, even with a loan-to-value ratio of more than 80%, where LMI may give them the opportunity to refinance on improved mortgage terms. Genworth proudly works with lenders to help Australians secure their home loans when they have less than a 20% deposit, sooner than they could otherwise and supporting their financial security."
Angus says the timing for a refinance is "highly personal", as it depends on the individual customer's goals as well as circumstances such as market movements. Brokers should understand their customers' short- and medium-term goals so they know when to check in with them and look at their financial needs.'
"Generally speaking, it's a good idea for brokers to conduct an annual rate review with their customers, which is also a great time to check in on evolving circumstances and priorities that may make a refinance appropriate," he adds.
The yearly review is not only appropriate for refi nances, which come with additional costs and inconvenience for the customer, but Willsallen says it can enable brokers to revise their customers' rates or products with the current lender. And this is where the importance of maintaining the brokercustomer relationship comes in.
"We consistently get feedback from customers that one of the things they love about their broker is the ongoing relationship they have with them," Willsallen says.
Q: Are there any risks in refinancing at the moment, for example where borrowers who were considered prime at the time of their mortgage might no longer be?
With the banks changing their lending policies over the last two years, many borrowers who were once prime customers now find they are less so. This is not just due to the lenders' changing appetites, because a borrower's circumstances can also change at any time, and this can have a serious impact on their ability to borrow.
Willsallen says things like career moves, new businesses and higher living expenses can all have an effect, but there are other factors to be taken into consideration, such as technology and data sharing.
"Comprehensive credit reporting is also something for customers and brokers to be aware of," she says. "This provides for greater transparency to a lender of a customer's current liabilities and their repayment conduct in relation to their eligible consumer credit products. This may mean that late repayments, which can happen from time to time, may be visible to the lender and may impact how the applicant is viewed."
To alleviate some of the challenges brokers may face, Westpac has made a number of changes to what it considers when it assesses a loan, such as the treatment of expenses for investment properties, annualisation of casual income and notional rent.
Coupled with the removal of the floor rate, this may mean customers have more opportunities to refinance with Westpac, Willsallen says.
This changing landscape provides a great opportunity for brokers who can navigate through the challenges for their customers.
At Pepper Money, the lender uses a cascading credit assessment process to identify the product that best suits a customer's individual circumstances and needs, Milburn explains. Brokers only need to submit one application to access a broad range of products and policies.
"There are a number of factors that impact a customer's available loan options, which is why a broker's role in understanding their client's circumstances, needs and objectives when they seek advice about refi nancing is so imperative," he says. "They are able to look at the whole picture and suggest an appropriate course of action based on those needs and objectives, particularly if their financial situation has changed."
There's never been a better time for borrowers to shop around for a better home loan, and mortgage brokers can greatly assist" James Angus, Bluestone
Q: Do you think rates will continue to drop? What should borrowers prepare for?
After three rate cuts in 2019, there has been wide speculation as to how the RBA will move in 2020. Angus says it is "almost a certainty" that rates will continue to fall, thanks to worsening economic conditions and the recent bushfires.
But he warns that borrowers should not expect the banks to pass on rate cuts to borrowers, as this is increasingly difficult due to a growing proportion of bank deposits – which are already paying out an interest rate at or close to zero – being used to fund loans, including home loans.
"Therefore, any additional rate cuts will not necessarily reduce big banks' funding costs, and the closer we get to an RBA cash rate of zero, the bigger the squeeze will be on banks' net interest margins," he says.
"Borrowers shouldn't assume that their bank will pass on any future cash rate cuts. There's never been a better time for borrowers to shop around for a better home loan, and mortgage brokers can greatly assist existing home loan borrowers to hunt out a better deal."
Genworth's West says there are several factors borrowers need to be aware of when refinancing, including understanding their current home loan: their balance, the interest rate and all benefits of the loan. He adds that borrowers should also request their credit report, obtain a current property value, and carry out some market research on the type of mortgage they need and why, as well as working out the funding they need.
"It's important to work out how much you want to borrow for your refinance and whether doing this will make financial sense for you after the costs involved," he says.
"You will need to borrow enough to pay off your existing loan. If you're raising cash for renovations or consolidating other debt into your home loan, add this to your total. You may also like to add any fees or charges covered to the loan amount as well. Add up the amounts to reach a total loan figure that you are likely to require. Then divide this number by the approximate value of your house. This will give you an LVR figure."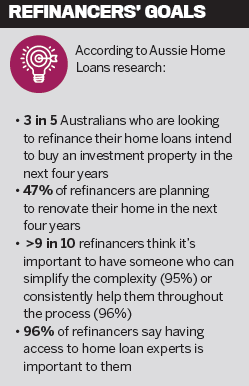 Q: How might the best interests duty affect brokers who are helping their customers refinance?
The best interests duty, which is set to come into effect on 1 July 2020, will require brokers to act in the best interests of the customer above all else. This means that brokers will need to prove that a refinance is in the customer's best interests and not a matter of churning.
But Milburn says those brokers who are already taking the time to understand their customers' circumstances and objectives may not have to change their processes.
"We see best interests duty as a real positive by lifting the image and profile of the broker industry and ultimately delivering what the vast majority of brokers already do – helping customers in the right way, the first time," he says.
Willsallen agrees that brokers should not need to change too much, but he says they will need to assess how they meet the duty.
"As self-employed business owners, brokers need to ensure they are adding value to their customers, including when they are discussing a refinance," she says.
As well as having the appropriate conversations with borrowers about their needs and potential changes to circumstances, Willsallen says there are other factors to think about, in terms of whether or not refinancing is in the customer's best interests.
"There is also the consideration that, if each refinance is a new 30-year loan term for the customer, whilst this may mean that a customer's monthly repayments reduce, it prolongs the total loan life, meaning that the customer may end up paying more interest overall," she says.