As NAB announces record lending, warning of problems for Qld mortgage defaults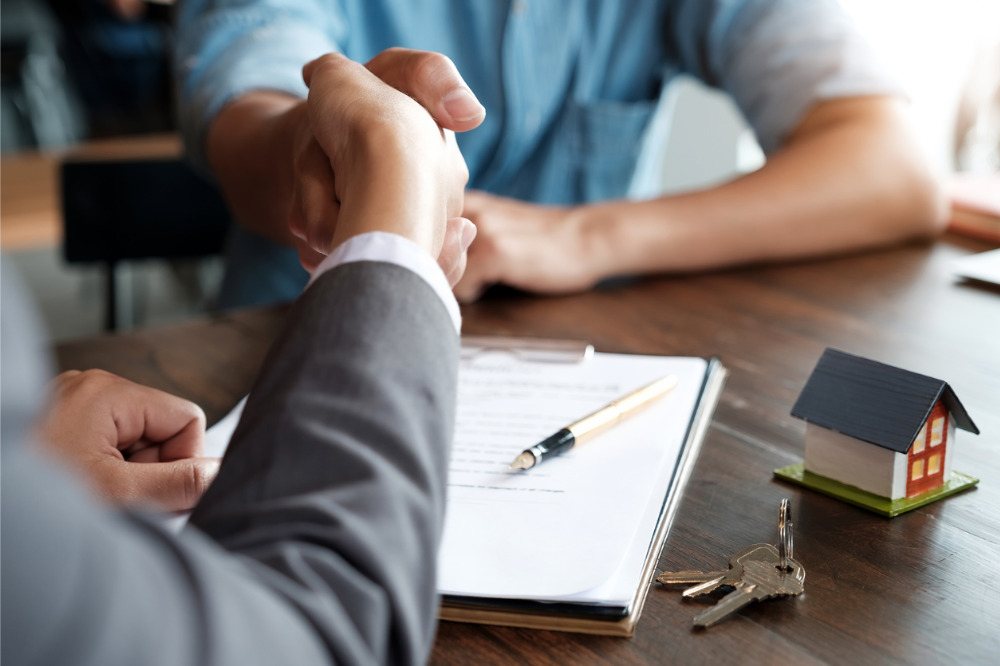 There's good news and bad news for the mortgage market. While first-home buyers are flocking to outer suburbs and regional areas to take advantage of record-low interest rates, an analytics firm warns that banks need to pay closer to the risks climate change poses to property prices and default rates, particularly in southern Queensland.
Lending data from National Australia Bank has revealed a surge in first-home buyers as low interest rates, drops in property prices and access to the first-home buyers deposit scheme encourage young borrowers to get into the property market.
NAB is one of the two major banks chosen to participate in the federal government's first-home buyers scheme, which allows a first-time buyer to get a mortgage with a 5% deposit rather than the traditional 20% needed to obtain a loan without lenders mortgage insurance, according to a report by The Australian Financial Review. The 15% difference is guaranteed by the government.
In the three months ending 31 October, financing for first-home buyers spiked 21% over the previous period, according to NAB's numbers. The spike was driven primarily by residential purchases in Western Australia, Queensland and regional New South Wales. Nationally, metropolitan first-home buying rose 17% over the period, while regional buying spiked 44%.
First-home buyers are crowding for mortgages at a level not seen for more than a decade, NAB executive Andy Kerr told AFR.
"As a result, many of our customers are telling us they are getting their dream home earlier than they thought possible, which is great news," Kerr said. "Demand has been supported by historically low interest rates and more government support, such as the First Home Loan Deposit Scheme and HomeBuilder. A brief pullback in property prices also helped first-home buyers, as the uncertainty of COVID-19 put many plans on ice, with investor demand slowing noticeably."
Read more: Plenti gets National Australia Bank warehouse funding facility
Victoria had the lowest level of new-buyer participation due to delayed reopening from the COVID-19 pandemic. Queensland, meanwhile, posted the largest spike in first-home buyers in metro areas, up 35%. There were more new entrants to the property market in Queensland than anywhere else in Australia, with Logan, Coomera and North Lakes as the major buying areas.
Kerr also told AFR that Australians are becoming more comfortable with buying homes in regional areas.
"Flexible working arrangements implemented due to COVID-19 are encouraging many Australians to consider a tree or sea change as easy access to the CBD moves down the priority list," Kerr said. "Many are seeing the potential of more land and a more relaxed lifestyle with easy access to areas like the Blue Mountains in NSW and Great Ocean Road in Victoria are proving very popular."
NAB said I expected continued momentum through next year.
Banks must acknowledge climate risk
It's not all good news, however. According to data and analytics firm CoreLogic, banks need to acknowledge the risks to property prices posed by climate change, as more intense cyclones are posing increasing threats to areas as far south as Bribane and the Gold Coast.
Dr Pierre Wiart, head of risk management at CoreLogic, warned that cyclones would increase in intensity and travel further south to the heavily built-up regions of southern Queensland, according to climate models. But Wiart said that lenders were not making sufficient preparations to mitigate that risk, while soaring consumer sentiment continued to push house prices upward, The Australian reported.
While insurance premiums have skyrocketed in many parts of Northern Australia hit by natural catastrophes such as cyclones Debbiein 2017 and Yasi in 2011, Wiart said that property prices had remained remarkably resilient.
For instance, while prices and for-sale listings in Queensland dipped after Debbie, sales volumes were on the rebound within six months, The Australian reported. There was a similar pattern in the wake of Yasi in 2011.
But Wiart said this resilience was largely due to the fact that the most destructive cyclones had hit northern and central Queensland, where the population density is lower. That resilience will likely change if cyclones start reaching the Sunshine Coast, Brisbane and the Gold Coast – as climate scientists predict they will. Wiart said that with the "sheer volume of properties" in these areas, a rapid property market recovery "may not necessarily follow" a natural disaster.
"This presents new risks for banking and insurance companies, whose business models depend on an accurate understanding of how natural disasters affect residential property values," Wiart said. "If there is a disaster that strikes that part of the Gold Coast, you could imagine that … as we've seen elsewhere, there will be a rate of delinquencies. People will not be able to pay their mortgage anymore because they would be affected by other economic factors: they might lose their job, their house might be destroyed and they won't know how to pa their mortgage. The banks need to understand how much of a default they might see on their own portfolio. And that is currently not really, I think, taken into account."
Both the Australian Prudential Regulation Authority and the banking sector are paying greater attention to climate change of late, as demonstrated by industry-led programs like the Australian Sustainable Finance Initiative and the Climate Measurements Standards Initiative, The Australian reported.