Over more than 20 years in the industry, 86 400's lending product lead learnt the value of diversity when it comes to innovation and new ideas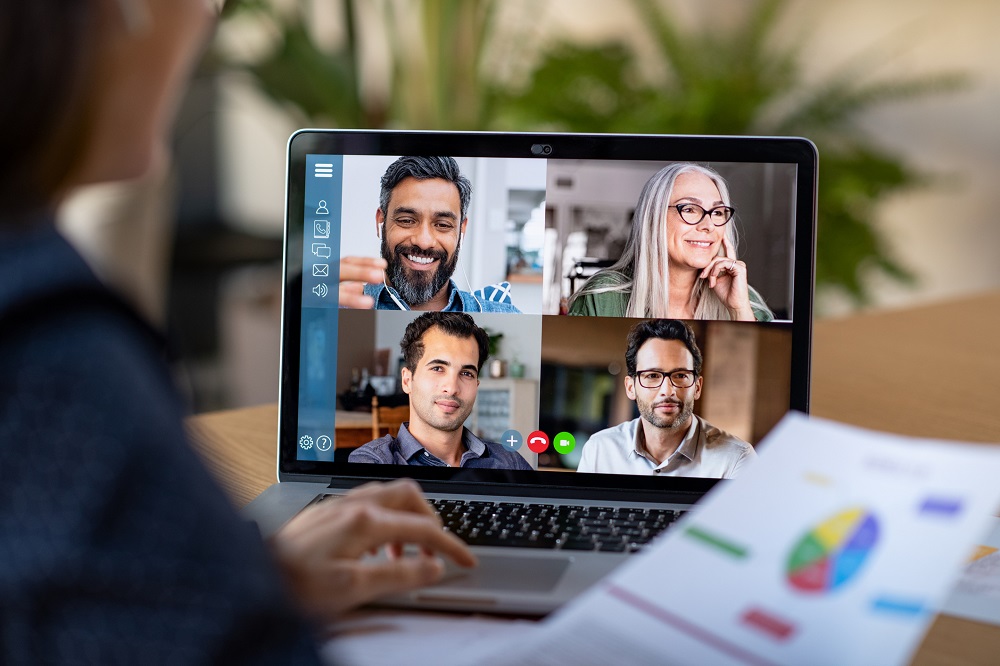 As a new and innovative addition to the home loan space, smartbank 86 400 understands the importance of having a diverse work-force. The fintech, which officially launched in 2018 and received its banking licence in mid-2019, is redefining the way that banking and lending are done, by offering completely digital processes.
This kind of innovation comes from a culture of diverse thinking and ideas.
Lending product lead Melissa Christy says the diversity piece – particularly in terms of age groups – has allowed for fresh approaches to the business. 86 400's employees range in age from their 30s to their 60s, its leadership is made up of a balanced team of males and females, and there are 19 native languages spoken across the workforce.
"Diversity is important so that we continue to challenge the norm and change the industry to bring innovation," she says.
"If we were all the same, we'd all think the same, and we wouldn't have the people to challenge what is there today."
With most Australians having some form of banking relationship, the industry's customer base is expansive. Therefore it makes sense that, to be successful, banks need to reflect who their customers are.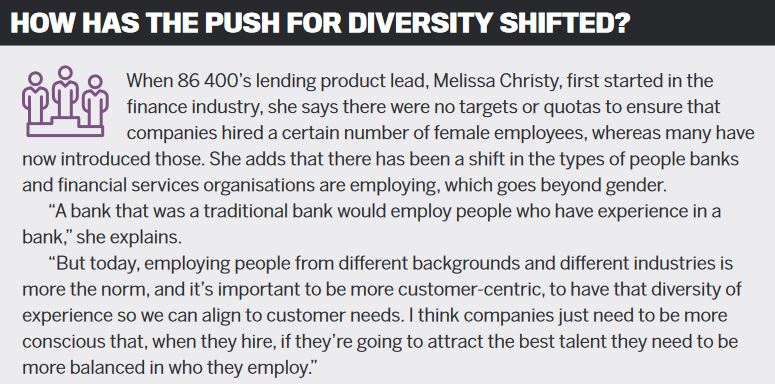 "Customer success equals business success," Christy says.
"Our business needs to represent the changing life stages of all our customers: the different ages, the different types of customers, from different places," she adds. "I think the fact that we have a diverse team means we can provide a better customer experience for everyone – because we are not all of the same mould; we're from all different walks of life, we're from different countries, we're different ages. So we see the different perspectives of different customers, and we can design with all of them in mind."
Christy has worked in financial services for more than 20 years, with 15 of those specifically in the mortgage space. During that time, some of her work has involved technology and innovation, and helping establish online banks in the UK.
Despite both financial services and technology being typically male-dominated industries, Christy says she has had a great experience of working in these areas as a female. When she first joined the industry in a job at Westpac, she had a female boss and a female general manager who provided her with support. They were role models for Christy, allowing her to see where she could go with her career, and influenced who she is today.
One of the biggest concerns for women in the industry has been a lack of awareness of other successful women or women they can turn to for advice and support. Christy says it is very important that women coming into the business have those female role models and mentors.
"It definitely was important for me when I was younger, because I could see what other people were achieving," she says. "These people that I was working for were promoters of me, but also showed me that I could do anything I wanted.
"Where banking and financial services is traditionally male, and finance in general has been a traditionally male role, I think they showed me that that was all changing, and it's definitely changed now. Women are taking on more of a role in their own finances but can also do any of the jobs that are out there."
While Christy believes the industry has come a long way in increasing diversity over the past two decades, with more women taking on leadership roles, she believes the impact of COVID-19 will in fact continue to make things better.
As a mother of two, Christy knows the benefits of a flexible work environment. With financial services joining the rest of the business world in moving to work-from-home arrangements due to the pandemic, this allows a greater level of flexibility, which she says will appeal to more women.
"I think it's these flexible working practices that will change things, because that just suits so many more people," she says, pointing out that the working world is moving beyond the nine-to-fi ve behind-a-desk working day.
"I'm a working mum, and 86 400 has been an easy place to balance my home life and the working from home, the leaving early to pick the kids up or take them to something – whatever, I can fit it in."
To other women who are new to the industry or thinking of joining it, Christy says it is a great business for women to be in.
"I've always had a great experience working in financial services, and I've worked with some really good leaders, so I think women really have the potential to go places in this industry, and there's a lot you can achieve," she says.