Top Broker's Nathan Vecchio reveals lessons learned during his days at a bank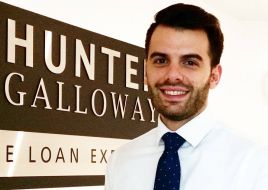 Director of Hunter Galloway, Nathan Vecchio, started broking in 2015 and using the techniques from Joshua's Top Broker Handbook, is writing big numbers, leading to Vow Financial naming him Broker Partner of the Year Rising Star in 2016.
In the early stages of my career, I started at a small brokering franchise and then moved to a bank. Both taught me a lot, but working in a corporate environment helped me understand the 'big business' culture. Working with hundreds of enquiries per month and settling $20mil+ per quarter, meant that the volumes we were doing were unreal. It was certainly a shock going from a small franchise to churning through a months' equivalent of numbers, daily.
While the challenges are inevitable, there are huge advantages in working for a bank or big business. With economies of scale and further resources, these elements allow you to have a leg up in the industry. So I've taken these learning curves and found a way to apply them throughout my small business and hopefully, you can too.
Lesson 1: It's not all on you
Working in a small business can create the attitude that all roads should (and do) lead back to you. After a few months in a large corporate environment, you realise that other people are just as capable and if not more capable than you at doing the same job. This has helped me remember that while I feel like I might need to micromanage people if these wider teams are managing so well on their own, then why can't mine do the same?
Top Broker tip: The first way to overcome this is through the correct training of staff and having systemised processes that are documented. I cannot stress enough that they need to be documented. Then actually trusting your team to do their job and giving them total ownership. As a business owner, it can feel like your baby, but it's important to remember that it's a business and not your actual bloodline.
Lesson 2: No answers are the best answers
Something else I noticed as I got more involved in the bank was that my time fell shorter and shorter. Currently, if someone approaches me with a question I can easily sit down and go through the answers with them. But being in a team of 20 people, if every single person came to me with a question or problem, and it took me an hour to sort it, that worked out to be 20 hours a week I was losing. This taught me to (again) empower others to solve the issues themselves because most of the time people already know the answer and are just looking for clarification for their own confidence.
Top Broker tip: When working with my team, instead of handing them the solution straight away, I ask questions to get them thinking in a different way. I also ensure that they're focused on the solution and not the problem. This, in turn, is building their problem-solving skills so that in the future they can solve the problem themselves, which builds their skills and ownership over the tasks within the business.
Lesson 3: Delegate your way through
This links to the above point where again, you need to have confidence in your team to take ownership over the work they do. I used to be afraid to delegate because I wanted to manage the process and ensure everything went perfectly. Now I'm relying on my team to implement the processes that I've set up instead.
I have set up monthly reporting to ensure that everything is going to plan and often have a touch point for every process so that I am still across it. Don't forget that you have the opportunity to improve the processes as you go too, so they don't have to be perfect to start with.
Top Broker tip: Start off by delegating the lowest dollar productive activity like – ordering valuations, doing up pricing or calling up banks to find out the progress of an application.
Lesson 4: First systems then growth
If you go for growth first then your systems will buckle. So having a robust process and system will allow you to handle the growth. One of my business tips is that we got a business coach to come in and review our systems for us. It wasn't how we started our business from the ground up though, as the initial focus was to save funds and just focus on pounding the pavement.
But as we grew, we realised it was a necessity and something we needed to invest in. I honestly cannot recommend this more highly.
Top Broker tip: Not everyone has a 'systems and process driven' way of thinking, while it's something I'm good at, we recognised that there was so much room for improvement and we seriously wanted to see some noticeable growth. This is where a third party professional comes in.
Going back to the above points, you need to be able to rely on your team and the only way you can do this is by having clear systems and processes in place. They need to be easy to follow so that if something happens to you tomorrow and you can't work, someone else can pick up the processes and follow them without your guidance, in result creating a streamlined and bulletproof process.
Equally, if you're a one-man band, it's still increasingly important to have a robust process to allow for future growth and when the day does come to hire your first employee, you have a framework to work off.
PS: I'm going to be taking over here at Top Broker for a little bit while Joshua focuses on a few big and exciting projects we are looking forward to bring you in the next few weeks. A quick background, I started broking in 2015 and using the techniques Joshua has given in the Top Broker Handbook I have grown my business in a very short time to writing some big numbers, and was fortunate enough to be awarded Broker Partner of the Year Rising Star in 2016.