CEO and founder of online home loans marketplace HashChing reveals why brokers should get on board.

HashChing is Australia's first online marketplace and its CEO and co-founder Mandeep Sodhi has over 10 years of consulting and business experience in financial services.

The business launched in August 2015 and is currently operating in Australia but plans to enter India and Asia by early 2017.
MPA: What does HashChing deliver in a nutshell?
Mandeep Sodhi: HashChing is an online home loans marketplace that instantly connects borrowers to verified mortgage brokers registered on HashChing based on the postcode and deal selected by the borrower. Mortgage brokers verified by HashChing get access to a customised dashboard that they can access on any internet enabled device allowing them to manage leads effectively from HashChing dashboard through appointment booking, SMS reminders, document filing, property reports etc. HashChing acts as a virtual admin assistant for brokers saving them hours of work and lost leads potentially.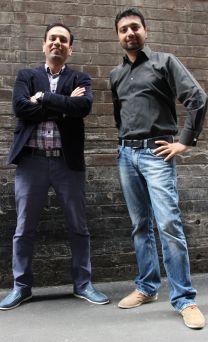 MPA: What led to starting up HashChing with your co-founder Atul Narang?
MS: Working in financial services for over 10 years and a loyal staff customer to my bank, I thought I had secured the best rate on his home loan until I told Atul Narang my home loan rate over a regular coffee meet. Atul Narang, co-founder of HashChing, on the other hand secured a better rate on his loan through a mortgage broker from my bank without any staff discount – but it wasn't that easy, having already experienced two bad brokers. With this experience, both of us decided to bring clarity and simplicity to the market with HashChing, Australia's first online marketplace for home loans.

After talking to our network of friends and colleagues, we believed that most Australians go through the same frustrating experiences when buying property with no recourse for help. Of course, there's a plethora of comparison sites with choice aplenty, but they merely promote advertised rates and direct consumers back to the lenders' website. Then comes the negotiation with lenders which becomes time consuming and hard when restricted to office hours. The market needed a shakeup.

MPA: How is HashChing different to other loan comparison websites?
MS: Comparison sites were a great offering when they were first launched in early 2000s and showed all advertised rates on one website, saving consumers hours of going to individual lender websites to find the rate and more transparency on advertised rates. While transparency on rates is available, consumers are sent back to each lender's website from comparison site and consumers are left to deal with each lender in restricted operating hours with no convenience who are biased towards their own products with limited choice. The lenders also take their sweet time to respond to consumer enquiries.

In this 'on-demand' economy, consumers are used to services delivered in minutes and expect a similar experience in mortgages. Unlike comparison sites, HashChing shows broker negotiated deals on the website instead of lender advertised deals and connects the consumer to a verified broker instantly with ratings from other HashChing users who is not biased towards a particular lender. HashChing broker calls the consumer within 24 hours of the details received and visits the consumer at time and place convenient to the consumer. Consumers can also ask questions related to home loan without sharing any details with the broker on HashChing platform that are answered by mortgage brokers only within minutes in a transparent manner that can be viewed by everyone.

Lastly, comparison sites work with lenders whereas HashChing partners with mortgage brokers only.

MPA: Why should brokers sign-up and what can they expect if they are listed on HashChing?
MS: We understand that marketing to consumers effectively is not mortgage brokers' strength. Buying leads can be an expensive exercise as well that gets shared around with multiple brokers and may not be of good quality at times. We reach out to their target audience in their specified servicing area through various methods including partnerships with big players to promote local mortgage broker profile. We do not charge per click or per lead and work on revenue sharing on settlement which means brokers do not have to worry about bad leads at all.

Below are some of the benefits of signing up on HashChing as mortgage broker:
Online and offline advertisement of your home loan deal and profile on HashChing and partner website.

Unlimited quality leads emailed to you without having to pay per lead.

Regular promotion of your business profile on HashChing and partner websites to build awareness for your business.

Verified badge allowing you to answer user questions to build trust and generate leads.

Secure log-in access to HashChing with complete profile page to upload your logo and business details.

Access to custom CRM Dashboard for easy management of leads with regular reminders.

Request consumer documents securely from HashChing dashboard with offline chat.

FREE unlimited access to customised HashChing Property Reports for your consumers.

Access to Mortgage broker directory listing with extended profile details displayed.

Month to Month contract with 30 days' notice period giving you flexibility.
MPA: What benefits does HashChing bring to customers that a bank or broker alone do not?
MS: After going through experience ourselves, we know customers want to speak to a mortgage expert with unbiased opinion when making the biggest financial decision of their life. HashChing provides more choice, savings and convenience to consumers.

Banks are always biased towards their own products and restricted operating hours provide no convenience to consumers. They are often hard to negotiate a good rate on home loan.

Brokers provide choice and convenience but consumers do not know who to trust as there is a perception that brokers charge fees and also push high commission products to consumers.

HashChing provides consumer the confidence by showing them genuine ratings and reviews on the brokers from other HashChing users which can only be provided by consumers who have gone through the application process for authenticity. Consumers can also ask any question related to home loan on our platform without sharing their details with brokers that are answered in a transparent manner by mortgage brokers only.

MPA: What has a client typically gone through already by the time they meet with the broker?
MS: The client has already discussed the situation and requirements over the phone with the mortgage broker before they meet. This helps mortgage broker to prepare few deals for the consumer to select. HashChing brokers are obligated to provide atleast three home loan deals to the consumer even though consumer has a selected a deal upfront, giving more choice and transparency to the consumer. The consumer has also done some research on the products before they meet the broker.

MPA: Can you explain the double-negotiation process on deals listed?
MS: Since brokers are saving lenders branch cost, they have access to better rates than lenders which they advertise on the platform upfront. After assessing the client situation i.e. borrowing amount, deposit, credit rating of the consumer etc., brokers are able to further negotiate a better rate sometime with the lenders but that depends on certain criteria that applies to individual client situation.

MPA: HashChing also has a blog for consumers to help in their understanding of the financial markets - why is this important to you?
MS: Our vision is to help consumers make an informed financial decision and through blogs we aim to educate consumers and provide them with tips relevant to them. We received some great feedback on our blogs from our consumers who have subscribed to our blog as it helps them build confidence and also avoid mistakes through the examples we cover in our blogs.

MPA: How has the business grown in the past year? What were HashChing's application and settlement volumes for 2015?
MS: The business was officially launched on 01 August 2015 and we received over 475 applications worth $250 million in first 5 months of launch only. While majority of the applications are still in progress, we settled 18 home loans worth $10.2 million in 2015.

MPA: What plans do you have for HashChing in 2016?
MS: HashChing is focussing on scaling the business locally with more partnerships to be announced soon. We have already partnered with OnTheHouse that will be switched on from 01 Feb 2016 where we will be promoting local mortgage brokers and their profile. Overseas expansion is on the cards as well but not till early 2017 until we get the local market right. The main focus is to improve borrower's experience and give more tools to mortgage brokers to help them close leads with minimal admin work. We are certainly excited for 2016.

Check out HashChing here.