The human element of the home loan process is not one that roboadvice can easily replace, but it can add another tool to a broker's armoury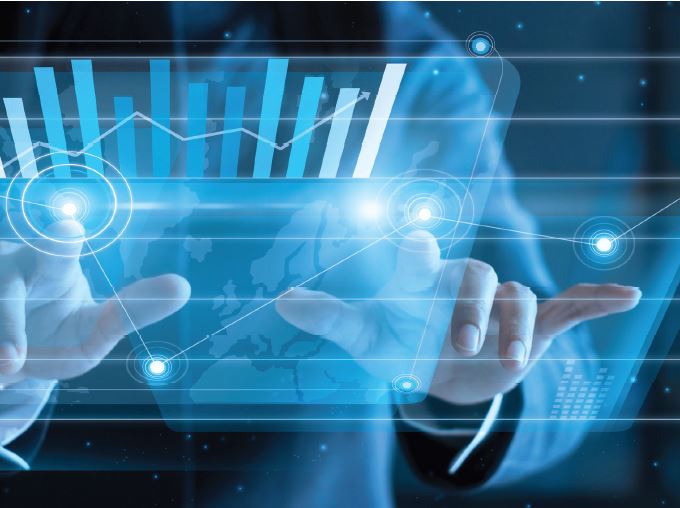 Roboadvice, digital advice, automated advice are all one and the same. Despite the imagery of metallic hands and humanoid robots often seen alongside these terms, it is basically advice provided using technology without a human adviser in the picture.

ASIC has the provision of digital advice under its watchful eye and noted its increased popularity in Australia since 2014, which the regulator expects will only continue.

Although roboadvice may appeal to consumers for its convenience, low-cost and time-saving capabilities, the human connection and lifelong relationships that brokers forge with their clients every day are not ones that computer-driven algorithms can easily replicate.

MPA spoke to a lender, a major mortgage franchise and a number of top brokers who are at the forefront of innovation within the industry to find out how roboadvice will change the future face of broking and whether they believe it will ever replace the client-broker relationship.

First impressions
Aussie's prefer face-to-face communication, and it isn't something that will be replaced in the foreseeable future, says Ren Wong, CEO of N1 Holdings. He suggests brokers take a hybrid approach to roboadvice opportunities, embracing the technology to add value to their existing business model.

"Roboadvice should be treated as a means to complement the human touch, instead of a simple plug and replace thing. I know there are a lot of people who think technology can replace humans, and there are also a lot of people reluctant to incorporate technology and stick to the full, traditional human-only way of doing business."

Chief executive of eChoice Peter Andronicos points out that financial services are complex and a one-size-fits-all solution just doesn't work in such a marketplace.

"People will remain at the heart of facilitating any transaction or advice," he says, adding that context is the key to whether Australians will identify with roboadvice.

"Australians take their financial choices very seriously, because most transactions come with high emotion and high value. So context is key. Technology in its role as an enabler can present opportunity and efficiencies and that coupled with the guidance of a broker or adviser allows decisions and options to be presented in context with that individual. For that reason they are not mutually exclusive of each other."



"Roboadvice should be treated as a means to complement the human touch, instead of a simple plug and replace" - Ren Wong, N1 Holdings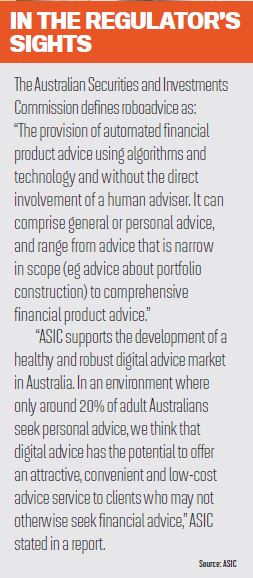 Enhancement or threat?
As a broker, you may be feeling slight apprehension about the ways roboadvice may impact your business and relationships with your clients. Donald Tang, founder of Alliance Mortgage Solutions, believes it could be a useful tool for brokers rather than a threat: "Roboadvice would make people's lives easier; human financial advisors would make people's lives better."

He says the rise of automated advice could make face-to-face advice from a fellow human even more valuable and makes comparisons to similar instances in history.

"Just like people used painting to record their views when there were no cameras in the world – painting is still a respectable job nowadays, and normally a painting would be sold at a higher price than a photo. Also like when we use machines to make clothes; we still need tailors in modern times."

Wong, however, says brokers shouldn't underestimate how fast technology can evolve: "An adviser's experience is an invaluable asset to a client seeking advice; advisers, however, can probably add more value by embracing technology. I couldn't imagine how much one could do if roboadvice was embraced by the invaluable human touch and experience."

Yellow Brick Road's former CEO Wealth Management, Matt Lawler (he has stepped down since talking to MPA) sees roboadvice as a catalyst for a wider group of people experiencing a financial conversation.

"The notion that during someone's first experience with financial advice they will hand everything over to an individual they just met in the first meeting is incredulous. It's more likely that people will feel more comfortable building their trust with an individual or organisation over a number of experiences," he says.

"It's likely the initial experience will be helping them with small issues, facilitated more by technology. In this case, roboadvice becomes a stepping stone to a longer relationship. The entry might be a simpler one, evolving to a more complex one."

"Whatever happens, brokers will continue to play an important role in helping customers to navigate the complexities of home ownership," says Mark Woolnough, head of third party distribution at ING DIRECT. "There are three approaches to financial management: 'I'll do it all myself ', 'You do it all for me' or 'We'll do it together.' As an industry, we need to be able to provide great service to our clients tailored to their preferences, so I don't think we will see one particular model reign supreme."

Connecting with the consumer
When it comes to roboadvice, Wong says there may be a disconnect between what the broker and the consumer expect from the technology: "I spoke to mortgage brokers and advisers and quite a number of them don't believe [in] roboadvice, but when I speak to consumers, they all expect a hybrid approach to using technology should already be a norm.

"I think we're a bit disconnected here between the industry and consumers. As brokers or planners we like to disregard changes and are reluctant to embrace technology, a lot of the time we forgot we should cater for consumers' needs to continue mortgage broking or financial planning as a sustainable industry proving its value to the market.

"In short, the impact is probably more on generating the awareness among the consumers of what they can expect out of mortgage brokers or financial planners, but we probably didn't act enough. This can be a valuable tool to gain competitive advantage."

Last year, Yellow Brick Road announced its first exploration into robo-technology, in the form of Guru.

"Guru is a customer experience that doesn't provide financial advice, but rather provides a clear picture of where a person is currently at and where they will be in the future if they continue on the same path," says Lawler. "The technology provides options and illustrations to simulate strategies and outcomes for various approaches in line with a customer's goals."

He says that Guru sparks conversations between their branches and customers who previously may never have had financial advice on their radar, or assumed advice was for retirees or the very wealthy.

"We want to continue to innovate and disrupt the financial services industry. We believe we can't ignore a growing trend of people wanting to access advice in different ways," Lawler says.



"We believe that the majority of people will always want to deal with another person when the emotive issues of money and financial futures and goal setting are on the table" - Matt Lawler, ex-Yellow Brick Road
He believes that human guidance through the use of technologies such as Guru is more beneficial to consumers.

"It's our view that human intervention at the conversation stage, or when it comes to implementation, is more valuable than just the customer exploring the technology."

Andronicos believes roboadvice will best suit those who don't have complex financial requirements or investors with experience who only need facilitation. Whereas Wong says the younger generations will probably embrace roboadvice first, as they're a techsavvy group that has grown up alongside electronic developments.

"They hail a cab, order a pizza and look up a property to rent on their smartphones. Some even get medical advice from the internet," he says. "When Airbnb launched, I am sure a lot of people thought who would want to give up the comfort of a full-serviced hotel and stay at a stranger's idle room, or what kind of landlords would want a stranger to show up in their empty rooms? Sometimes things that we think wouldn't work might well click with younger generations."

But Woolnough mentions their research showed that although the current young generations are tech-orientated, 80% of their Gen X and Y respondents indicated they wanted face-to-face interaction for financial advice, at least in the initial interaction.

"When borrowing a large sum of money, trust and value are key and a face-to-face, personal relationship is central to this," he says.

"However brokers themselves will probably be more digital in their approach. More and more we're seeing brokers operating beyond the traditional face-to-face model, with greater online presence and bringing digital into the home loan process with digital signatures and verifications."


"Whatever happens, brokers will continue to play an important role in helping customers to navigate the complexities of home ownership" - Mark Woolnough, ING DIRECT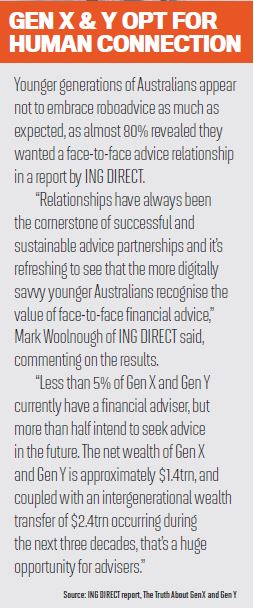 Bright horizons
Yellow Brick Road is eliminating a great deal of the technical and operational tasks in financial advice to make it more affordable, says Lawler, and so more people can choose to seek advice as an option.

"However, we also believe that the majority of people will always want to deal with another person when the emotive issues of money and financial futures and goal setting are on the table. This is why we believe facilitated roboadvice is the right mix."

Woolnough says brokers will always be central to helping people get into their homes or make their next investment: "Indeed, more than 90 per cent of ING DIRECT's mortgage business comes through brokers and they're a key part of our future growth plans."

We're moving towards omni-channel – one seamless experience for clients regardless of channel, according to Woolnough.

"The third-party channel is becoming more diversified. We know that people are interested in discussing other products with the broker, for example superannuation. Many brokers are in turn offering a more holistic solution for their clients, across residential, commercial and financial management more broadly," he says.

"Sometimes things that we think wouldn't work might well click with younger generations" - Peter Andronicos, eChoice


He believes that the increased use of technologies brings transparency, simplicity and personalisation to the industry, which is only a good thing for its growth and clients.

Roboadvice can offer brokers a great deal of opportunity if they choose to embrace it, but brokers will always have something automated advice can't impinge on: the human connection.

Buying a house is one of the biggest decisions we make in life, and it doesn't look like people are ready to go through that journey with only a machine to guide them any time soon.