Aggregator reports 50% lift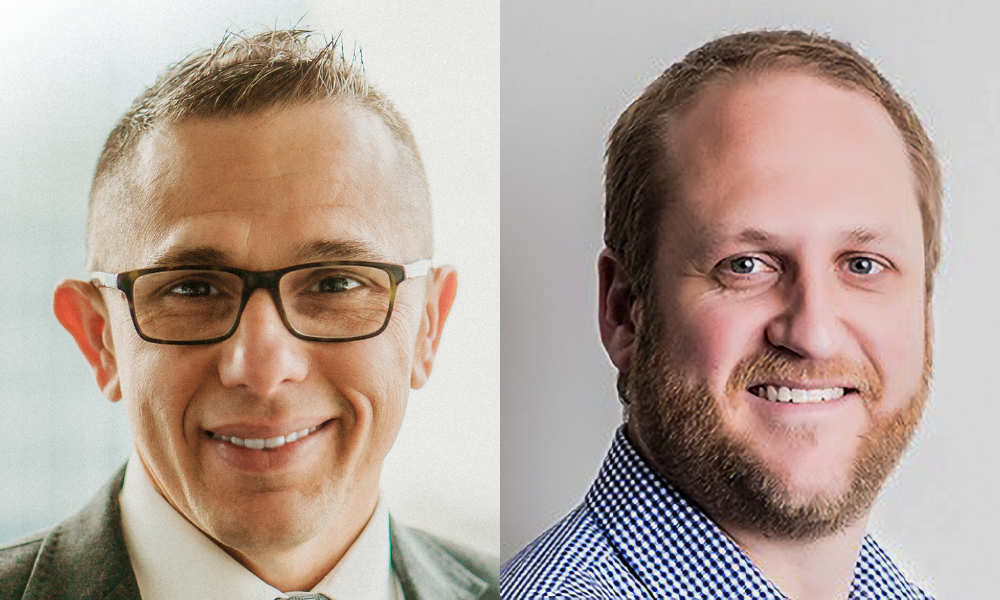 Off the back of a surge in demand for asset finance, aggregator Platform Finance says it is experiencing a record level of growth.
Growth within the strategic partnerships area of the business is tracking 50% above the same time last year, Platform Finance said.
The company is on target for "a record 12 months", with heightened demand, its diversified product offering and enhanced support for SMEs among the key factors driving growth.
Platform Finance director aggregation and strategic partnerships Damian Mantini (pictured above left) said despite a number of headwinds including global supply chain issues, there was significant growth in demand.
"In our strategic partnerships part of the business, we experienced a growth rate of 50% compared with May 2021 – an all-time record," Mantini said. "And while last financial year was a record year for us overall, we have already surpassed those numbers. These results are testament to the hard work our team members have put in with the broker network and their customers."
Read more: Asset finance surge shows SMEs investing for growth
Among the key drivers within the commercial sector were an increase in infrastructure spending, higher activity in asset-intensive industries such as transport, civil works and agriculture, the instant asset write-off and buoyant consumer demand, Mantini said.
The aggregator's SME lender panel was now "stronger than ever", he said, adding that it had also grown its personal loan offering to brokers' clients.
"We've been working closely with our brokers as they prepare their market strategies for EOFY, which has also led to the record results in May," Mantini said.
While all asset sectors performed well, private motor vehicle sales were one of Platform Finance's strongest performers. Helping brokers and their customers navigate this area has been a focus, resulting in significant growth.
"The instant asset write-off has certainly had a major impact, particularly in May and now in the lead-up to the end of financial year," Mantini said.
The strong results have prompted Platform Finance to boost its sales and operations teams, which it plans to expand over the next six months. Newly appointed national sales manager Scott Thomson (pictured above right) will continue to drive growth.
Thomson has worked across lending and aggregation and as a broker. Having joined Platform Finance from Pepper Money, Thomson was familiar with the asset finance market, including the consumer and commercial sectors.
Mantini said Thomson's experience and expertise meant he was well prepared to lead the sales team into the next phase of growth.
"Scott is an awesome addition to the team. We have worked with him for several years in his most recent role as relationship manager with Pepper and he's culturally very well aligned to the Platform Finance values," Mantini said. "Scott will continue to execute on our strategic objectives of growing the business. He'll be doubling the sales team and will also expand our operations team, which has already grown by 30% this financial year."
Read more: Grow Finance to introduce asset-based lending for SMEs
Further improvements to systems and processes, marketing and education are in the pipeline, and will form the "cornerstone" of the aggregator's ongoing improvement plans in the new financial year.
The number of brokers engaging with Platform Finance has grown significantly over the last 12 months.
As home loan market conditions changed, Mantini said he expected more brokers to diversify into asset finance.
"In our 12 years of providing services to brokers, we've seen this trend before and are prepared to assist brokers to understand asset finance and engage with it with confidence," Mantini said. "With issues like supply challenges, more private sales, rates moving and the sheer number of funding options available, brokers are increasingly seeing the benefits of partnering with an asset finance specialist."
Mantini expected rising inflation, coupled with interest rate rises would weigh on consumer sentiment, but acknowledged that depreciating assets would always need to be replaced.
"In addition, the infrastructure pipeline remains largely underpinned by large federal transport and energy projects and the preparation for the 2032 Olympic Games (and the Olympics) in Queensland, and the 2026 Commonwealth Games in Victoria," Mantini said.
Due to supply chain challenges, he said customers would need to pre-order motor vehicles well in advance.
"Despite these challenges, our team is here to help support our brokers," Mantini said.
Platform Finance is a car and equipment finance aggregator with over 20 years' experience. With a large panel of asset finance lenders, the group offers brokers more choice for consumer and commercial loans.
Based in Sydney, Platform Finance operates nationally. Retail brands under the Platform umbrella include Melbourne Finance, Mildura Finance, Platform Direct Finance and beCarWise.