Home prices expected to drop $89,000 by end of 2023, before rebounding in 2024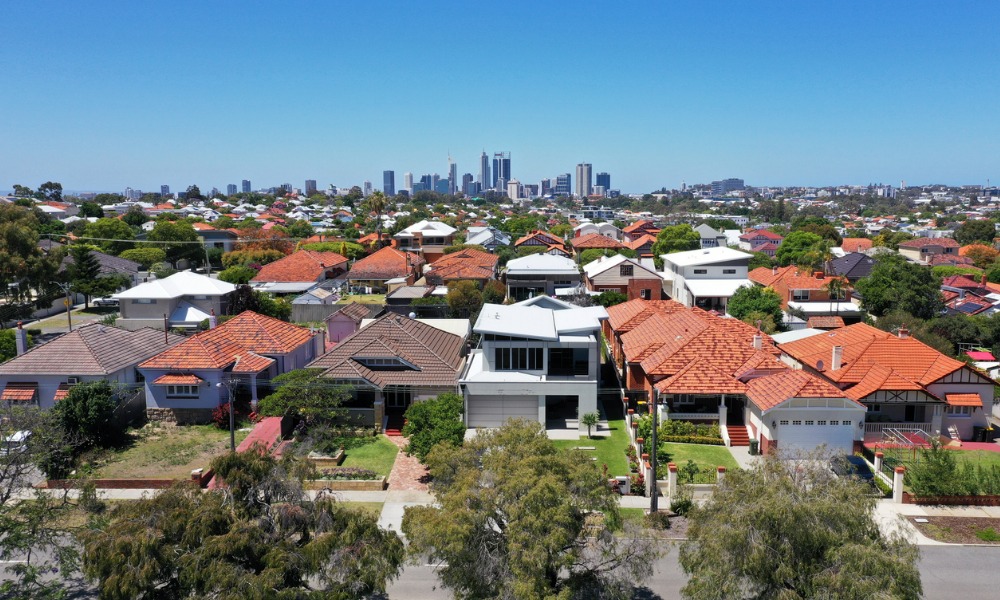 If you are looking to catch a break in Australia's uber-expensive housing market, you could do little better than Perth. Western Australian's capital city offers house prices that are second to none, and it only gets better if you are willing to move into the suburbs just outside of the CBD. And house prices are only expected to drop more—but the window is closing. Here is what you should know about Perth, Australia's sunniest capital city, and its property market.
Is it worth investing in Perth?
As rising interest rates start shrinking Australians' budgets, dropping house prices may give first-time homebuyers a short window into the Perth property market. However, with property prices expected to rise significantly in 2024—or sooner—that window could close at any time.
If house prices in Perth drop by the $89,000 that is expected before the end of 2023, that will see median prices in Western Australia's capital dip below $500,000 once again. ANZ economists predict that property prices nationwide will drop by up to 20% by the end of 2023 due in part to increased interest rates, with prices expected to begin recovery in 2024.
In Western Australia, property prices are forecast to drop 13% next year before rebounding the next. Economists agree that a sharp rise in mortgage rates on the back of Reserve Bank policy changes in May will likely impact property prices.
What are Perth's most affordable suburbs?
While experiencing strong price growth over the past 12 months, Perth continues to offer the most affordable median house sale price of any capital city in Australia. In Perth, the average house goes for roughly $525,000, while the median house price in Sydney is a staggering $1.6 million. With relation to the CBD, Perth also offers a plethora of affordable properties within 30 kilometres, which, again, is unique when compared to Sydney and Melbourne, where many people are priced out of the CBD.
In fact, there are 10 suburbs in Perth that have median house sale prices under $375,000, and nine of those 10 suburbs have a median house price of $350,000 or less. The cheapest suburb of Perth is Camillo, 26 kilometres from the CBD, with a median house sale price of $299,000. Just 13.3 kilometres from the CBD, Balga's median house sale price is $350,000. Another attractive option is Lockridge, which comes in as the fourth most affordable suburb at $337,500 and is just 13.6 kilometres from the CBD.
Are house prices dropping in Perth?
Yes. By the end of 2023, the median house price in Perth is expected to fall from $525,000 to under $500,000. Before rebounding, property prices in Western Australia's capital are predicted to drop 13% next year.
An increase in official mortgage rates limiting the borrowing capacity of potential homebuyers is cited as the reason for the drop in Perth's home prices. The ANZ anticipates mortgage rates will peak at the beginning of 2023 at 3.35%.
But not everyone agrees there will be a significant drop in prices, with some property analysts suggesting the worst-case scenario is that property prices plateau, and the best-case scenario is that prices grow 5% between now and the beginning of 2023.
Which suburbs are booming in Perth?
With median selling times of only seven days, Inglewood, Heathridge, Kingsley, and Woodvale are emerging as suburbs that are booming in Perth. In fact, Perth boasts 20 suburbs with increasingly quick median selling times, with all of them recording nine days or less in 2021-22. More typical selling times in a balanced market, by comparison, are up to 40 days. Overall, Perth posted a median selling time of 15 days.
In Heathridge, the median selling days was seven and the median house sale price was $530,000. The price in Coolbellup was $550,000, the price in Cooloongup was $355,000, and the price in Merriwa was $380,000—with each posting median selling days of nine.
On the other end of the spectrum, North Perth saw the strongest growth with a median house sale price rising by nearly 26.7% to $1.14 million. Shenton Park increased by 17.5% to $1.715 million.
What are the perks of living in Perth?
There are two obvious perks of living in Perth that stand out right off the bat. One is the as-mentioned median home sale price, which is the lowest among all of Australia's capital cities, with even more affordable suburbs near to the CBD. The second perk is that Perth is Australia's sunniest capital city—there are 3,000 hours of sunshine here each year.
Aside from the city's liveability, its world-class educational institutions, and its thriving food, arts, and culture scene, the unemployment rate in Western Australia is the lowest across the entire country, at 3.4%.