Automation and AI set to transform the broking industry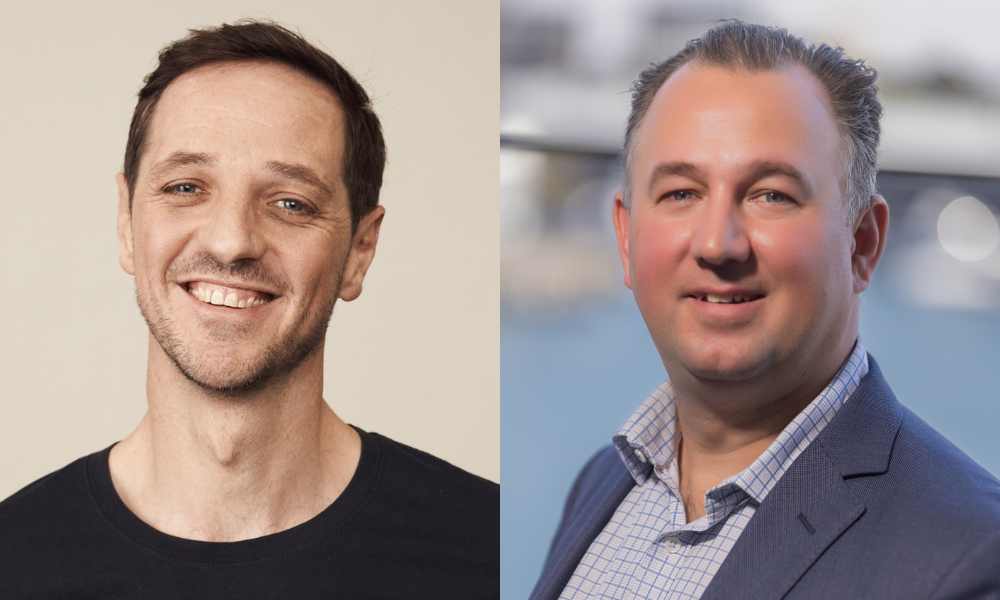 The use of digital technology is already changing the face of the mortgage broking industry, and automation and artificial intelligence are the next game changers.
The pandemic accelerated the use of tech tools as brokers and their clients were thrown into communicating by Teams and Zoom, and electronic signatures became the norm.
The pace of technological change has only increased. The Equifax Mortgage Broker Pulse Survey 2023 shows that, to improve the customer experience, 17% of brokers plan to adopt new digital solutions over the next 12 months, up 9% from the 2022 survey. A similar number – 16% (an 11% increase) – plan to adopt new digital solutions to automate processes.
MPA asked Lendi Group chief product officer Travis Tyler (pictured above left) and broker James Russell (pictured above right), a director at Kelly+Partners Finance, for their views on broking technology and how it can benefit the industry.
Vital technology for brokers now
Tyler leads Lendi Group's 'Experience Org', which oversees the company's technology, growth and products teams as well as the ongoing maintenance, optimisation and enhancement of its proprietary Platform. He has more than 20 years' experience in financial services, covering product, marketing, design, technology and operations.
Tyler says brokers should offer clients the ability to share and upload documents securely.
"It's simple for the client as they can do it when convenient, it saves time for the broker, and, importantly, it keeps personal information in a safe and secure environment as opposed to sharing via email," he says.
Russell, who has worked in the finance industry for 18 years, says he finds the use of BankStatements.com.au an absolute must due to the time it saves when collecting and analysing income and expense data.
"Some customers are against entering their banking passwords; however, I find most customers are happy to use this service as it saves them time providing such information."
What future platforms will have the greatest effect?
Tyler says it's likely that the biggest impact is yet to come with the rise of generative AI.
"The pace and impact of the change is likely to be bigger and faster than the internet and will be pervasive in all industries. We are already seeing it across many industries with the cutting down of the time it takes to complete tasks or the elimination of manual tasks altogether."
Tyler says Lendi Group sees its proprietary platform as offering brokers an opportunity to further increase their productivity, improve customer experiences, access richer and more personalised information throughout the application process, and be able to answer almost any question in real time – allowing them more time to focus on clients' needs.
Russell says the mortgage broking industry is likely to move towards fully digital processes.
"This includes online application submissions, document uploads and electronic signatures, streamlining the mortgage application and approval process.
"Lenders were quick to implement features such as electronic signatures during COVID, using e-sign platforms such as DocuSign and Adobe, which has had a huge impact on the ability of borrowers to sign and return loan documentation in a quick and reliable process."
Lendi Group's Platform
Tyler says the core benefit of Platform, which is used by all Lendi Group brokers, is live connectivity. "Platform's dual interface allows the broker and customer to work through the search, fact-find and application process together – in real time," he explains.
Traditionally, brokers rely on offline processes, says Tyler, with the average loan taking more than 20 hours to process and customers facing weeks of uncertainty.
"Platform's digitisation of the application process makes the experience more seamless for brokers and customers, allowing for significantly faster lodgement speed compared to industry averages."
Tyler says the proprietary technology has revolutionary features that power Lendi Group's fully supported broker model and enable brokers to work more closely with customers and lenders to really deepen those relationships.
"Platform gives our brokers the ability to make compliance a competitive advantage through our technology-driven 'codified compliance'," Tyler says.
The system also improves broker and network operating efficiency by reducing manual processing. Tyler says the efficiencies mean significant cost and revenue synergies and reinvestment in the future growth of the group.
Russell says improving technology processes for post-settlement services is crucial for lenders to enhance efficiency, reduce costs and provide better broker and customer outcomes.
"Developing user-friendly self-service portals for brokers to access their loan book data, monitor and reprice interest rates and complete service requests will not only reduce the burden on lender support teams but enhance overall broker and customer satisfaction."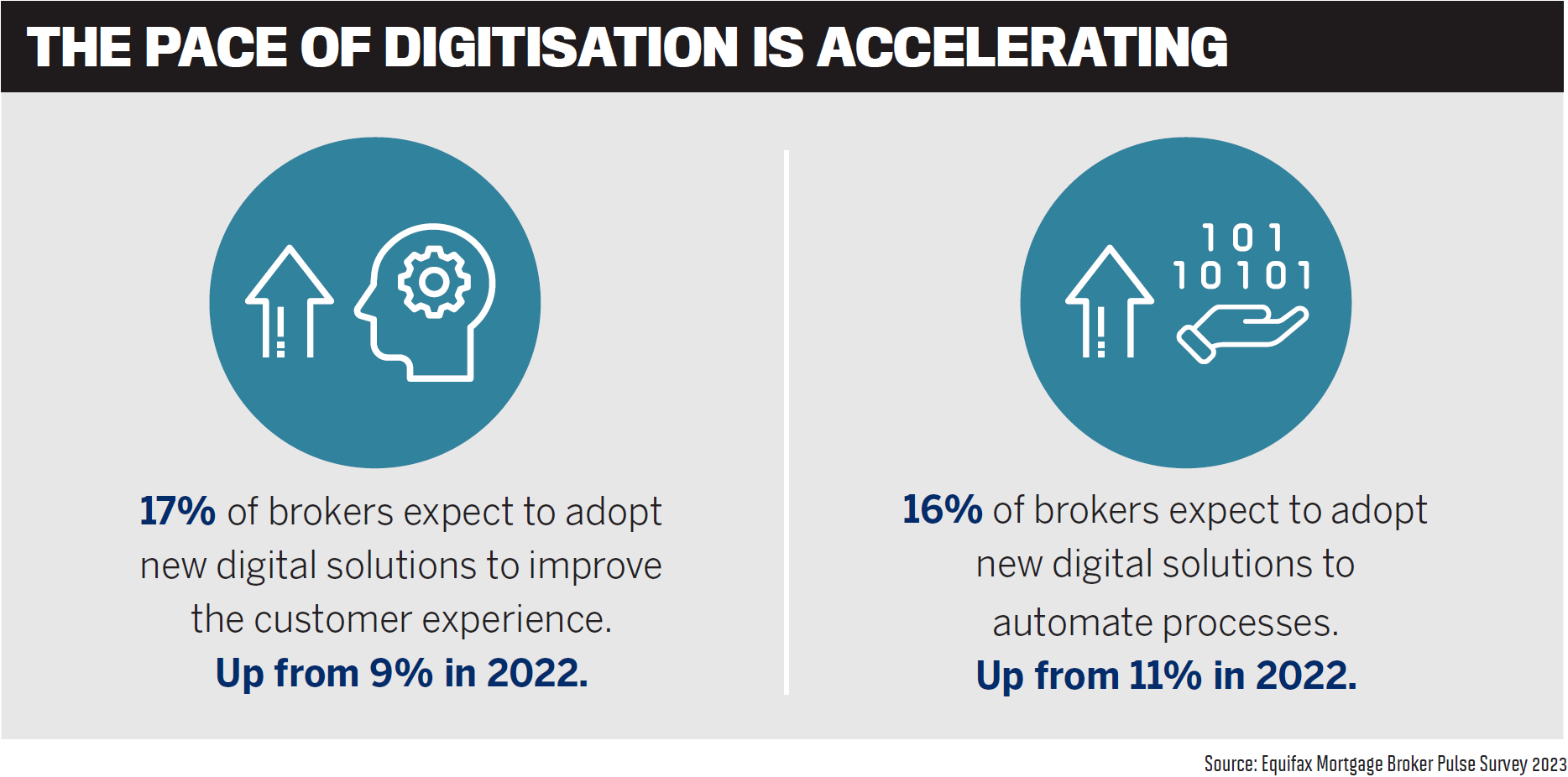 AI and automation
Russell says AI has the potential to significantly enhance the efficiency and effectiveness of brokers in several ways, including through data analysis, document verification, fraud detection and workflow automation.
"However, AI is a double-edged sword as, in time, big tech will be able to fully automate the broking process that may push out human interactions as we know them today."
Tyler says one of Lendi Group's core values is "keeping home loans human".
Mortgage broking is a people-centric industry," he says. "We use technology to facili- tate stronger engagement and deeper connec- tions between brokers and customers, ulti- mately enabling brokers to deliver faster, better outcomes – and we will continue to do that."
The group has more 600 team members supporting broker businesses, and over 1,300 brokers servicing thousands of customers, and "our approach is always human-led and tech-superpowered, so for us, technology enables rather than replaces the human connection", Tyler says.
"From a customer's perspective, access and speed to information will be a game changer, and we're already looking at how that can play into our Platform to make it even more effective."
For brokers, Tyler says quicker responsiveness, automation and connection with lenders is where there's potential for impact.
"Our Approval Confidence technology is already the first of its kind. It integrates directly with lender decision engines to give customers a real-time indication of the likelihood of unconditional approval."
As a thought leader in the industry, Tyler says Lendi Group is home to hundreds of talented, creative people who are experts in their field. This was on full display at the group's inaugural two-day Hackathon in April, where brokers and team members from all business units formed small groups to ideate and create prototypes to improve broker and customer experiences, with AI and automa- tion at the core.
"The incredible creative outputs from this event are now being reviewed at a business level to consider how they can be honed and implemented, with three products already in build phase – watch this space."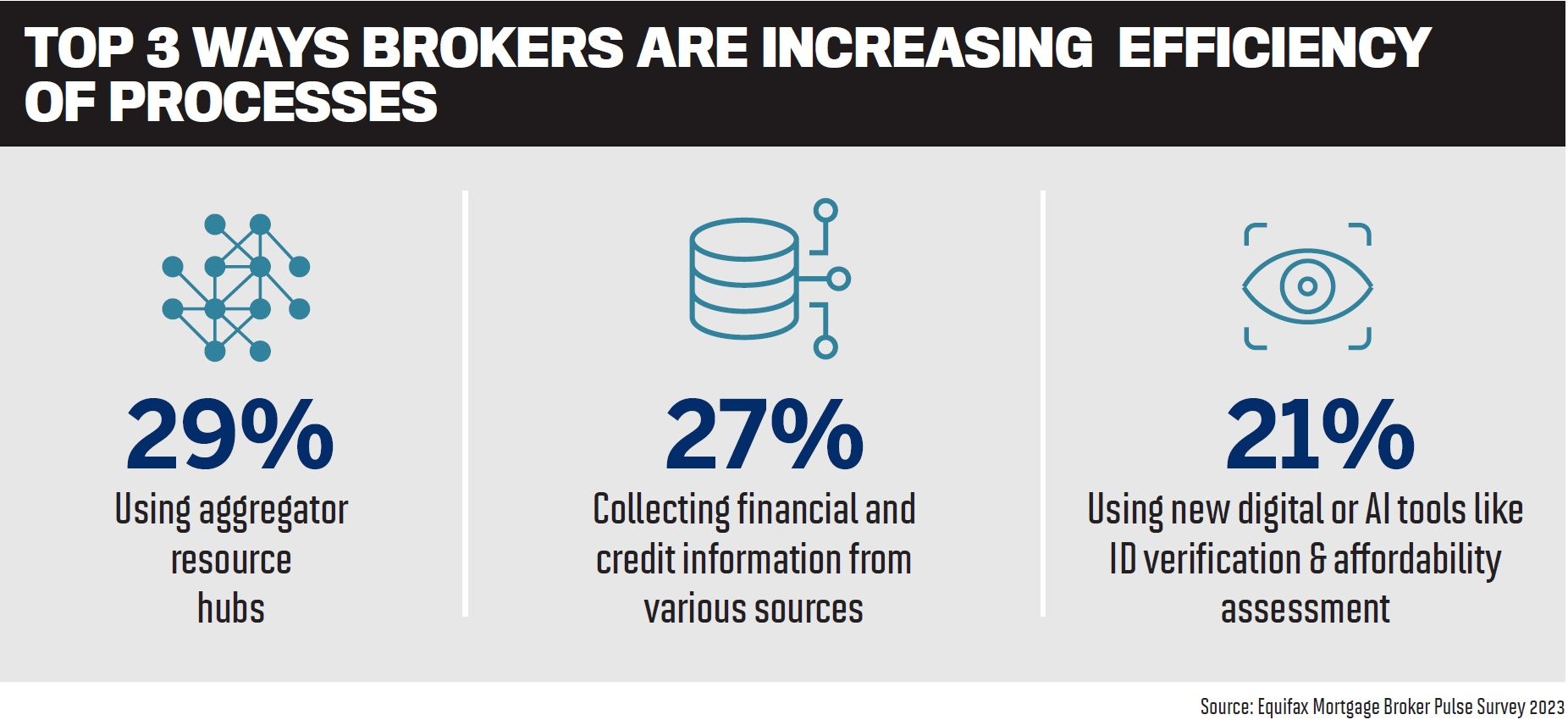 Direct-to-customer digital loans
Russell says digital loans eliminate the need for mortgage brokers. "Borrowers can apply for loans directly through these platforms, bypassing brokers altogether. This could lead to a reduction in the demand for mortgage broker services."
But Russell says it's important to note that the broking industry still has advantages such as providing personalised advice, navigating complex mortgage options and offering a human touch during the homebuying process.
"Some borrowers may still prefer working with mortgage brokers for their expertise and guidance," Russell says.
Tyler says there's a small group of customers who prefer digital loans, but it will remain small as many clients need help to navigate an increasingly complex mortgage system, or tailored solutions to meet their unique needs.
"Brokers play a much broader role than just finding and settling the right loan. We provide support throughout the property journey, and we are one of the most trusted as our interests are aligned with the client," Tyler says.
"Having someone on your side to get the right rate or find the right solution so you can get that extra bedroom has never been more important."
The future
Tyler says broking will continue to be a relationship business, but those who embrace tech throughout their journey will provide the quality experience customers expect when making the most important purchases of their lives.
"All experiences will be connected and smart. The days of tiresome manual processes are limited, and Lendi Group is already making these obsolete for brokers and customers alike."
Processes that exist today will become automated, so service will become a more important factor when it comes to standing out from the crowd, says Tyler.
Russell says the industry is increasingly moving toward digital platforms, online services and big data. "Borrowers can now apply for mortgages, upload documents and communicate with brokers through web and mobile applications. This trend is likely to continue with even more streamlined and user-friendly interfaces."
Brokers are increasingly relying on data analytics and AI for insights into customer behaviour, market trends and credit assessment, Russell adds. Advanced analytics tools will help brokers identify potential clients, optimise marketing and allow for more informed decision-making.
Russell says it's important to keep in mind that broking is subject to regulatory changes and market dynamics that can influence the adoption of technology.
"Brokers who can adapt to these changes and leverage technology effectively are likely to remain competitive."