Lendi Group CEO of distribution Brad Cramb looks at how Aussie and Lendi are combining their strengths and capitalising on growth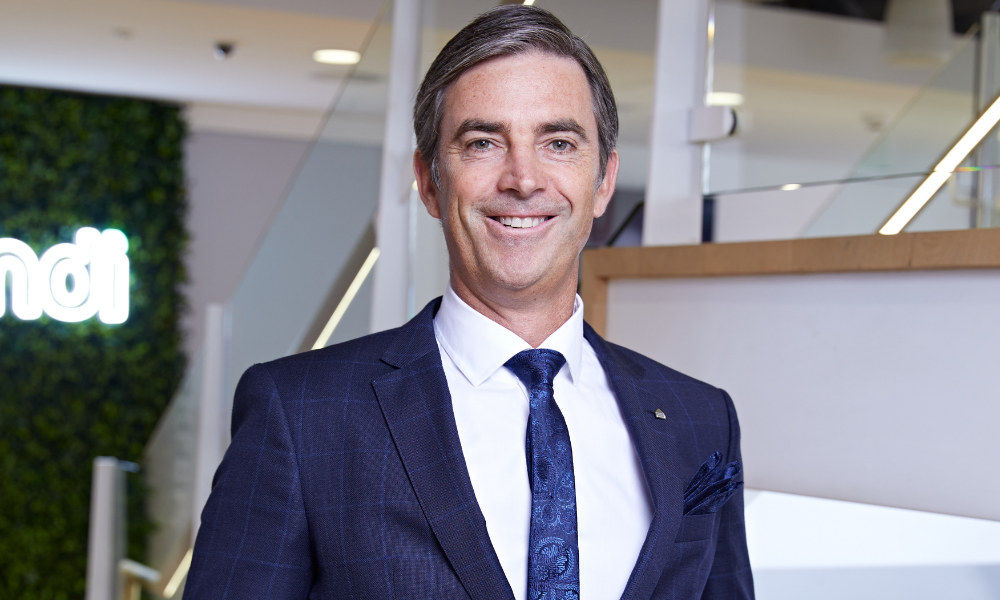 It's no easy task bringing together two very different organisations – Aussie, a household brand in the mortgage finance industry, and Lendi, a leading online home loan platform. But a little over a year after their merger to form Lendi Group was completed, it's clear to Brad Cramb, the group's CEO of distribution, that brokers are reaping the rewards.
"Brokers have already begun harnessing the benefits the combined group offers, as Lendi Group experiences exceptional growth," says Cramb.
"Marrying Aussie's extensive retail broker network with Lendi's market-leading proprietary technology is allowing Lendi Group to create seamless experiences that liberate our brokers, customers, borrowers and lenders from the all-consuming admin of homeownership."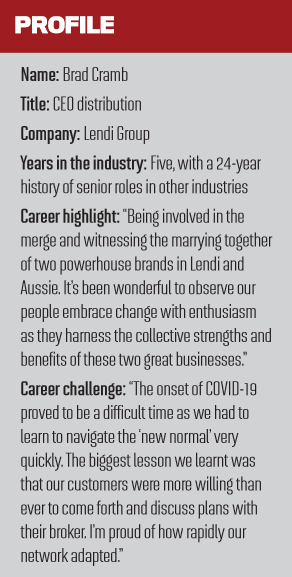 Cramb says Lendi Group knows that to offer a great customer experience, it's important to facilitate a great broker experience first.
"We're laser focused on creating 'the network of the future'. With the leading broker value proposition in the market, which is 'human led and tech driven', our aim is to attract and retain the best broker talent in the industry."
Cramb is well positioned to drive the successful integration of Aussie and Lendi, with his background in leading sales teams and driving improvements at Toyota and Audi.
"I joined the Aussie business in 2017 prior to the merger with Lendi to form Lendi Group," he says. "Homeownership is the great Australian dream, and I was drawn to the mortgage finance industry by the opportunity to help put progress within reach for millions of aspiring homeowners."
Cramb says he started his career close to 30 years ago.
"Over the years I've had the opportunity to step into diverse and extensive executive roles across highly competitive markets and franchise industries," he says.
"From driving and growing retail sales teams to [my role as] chief marketing officer with Toyota in the automotive market, to executive in charge of sales and distribution at Aussie – in my time, I have been able to successfully establish innovation divisions, lead company-wide reform projects, and help establish new business models.
"Irrespective of the industry, over my career I have found there are key aspects of success that remain consistent – which are having passionate and talented people that work to high standards towards a common goal."
New processes
To address some of the challenges brokers face, Cramb says two Lendi working models – Associates and Client Solutions – have now commenced rollout across the Aussie mobile channel following extensive pilot tests.
The aim is to complete the rollout across the Aussie retail network over the next 12 months.
Under the new Lendi models, the in-house Associates Team will now field company-generated enquiries. This team makes first contact with the customer to qualify them before directing them straight into an appointment with a broker or into a nurture pipeline for specialised contact.
Cramb says this bespoke contact results in real-time technology-driven triggers that direct the customer back into a broker's calendar when they are ready to transact.
Further operational burdens are alleviated by the Client Solutions team, which assists with loan packaging.
"Not only are brokers receiving qualified appointments rather than leads, but the centralising of key operational tasks also affords brokers more time to spend directly interacting with customers, thereby enabling them to deliver a high level of service," Cramb says.
He says the Lendi initiatives are delivering better, faster outcomes for customers and brokers, with the pilot tests "yielding impressive results, including fast-tracked times to lodgement, fewer RMIs, and turbocharged time frames to unconditional approval".
Another benefit that brokers are enjoying is Lendi Group's market-leading Approval Confidence technology. This indicates the likelihood of a customer's ability to achieve full approval of the loan.
Cramb says it helps customers select the loan option that will most likely fit their situation and therefore achieve approval faster.
"Approval Confidence assesses the borrower's credit profile and personal information, allowing lenders to respond to the customer within seconds through Lendi's proprietary platform."
'Best-in-breed' technology
The primary enabler for enhancements across the group's broker network is the industry-leading, proprietary technology of the Lendi platform, Cramb says.
The underlying platform and technology that powers the Lendi brand is currently being developed to also service the Aussie network.
"The process of making the platform 'Aussie ready' has resulted in a series of highly effective tech upgrades, which will benefit brokers across the group, enabling them to deliver better, faster outcomes for customers."
Cramb says there's no doubt that technology plays an enormous role in improving efficiencies for brokers.
When built successfully, he says, it can provide benefits such as easier application processing, greater customer interactions, a wider range of product options, increased lead generation, reduced operational costs and greater customer satisfaction overall.
"While tech-driven efficiencies are key, the people, systems and operations that support it are equally as important," Cramb says. "Ultimately, our aim is to power our brokers with the best-in-breed technology, data and systems that make them indispensable to both customers and lenders."
Navigating rising interest rates
Brokers are invaluable to borrowers along their home loan journey, particularly in the current rising interest rate environment, Cramb says.
"With the first RBA cash rate rise in May likely to be the first in a series of many over the next 12 months, homeowners will need to lean on the expertise of their local mortgage broker more than ever before."
Given that it's been almost 12 years since interest rates were last lifted, Cramb says there are potentially hundreds of thousands of homeowners who may never have experienced an interest rate rise.
"While lenders are acting faster to pass on an increase, it will be brokers' responsibility to be proactively on the front foot of this change, connecting with their clients and encouraging them to refinance and navigate the most suit-able option to meet their personal needs."
Connectivity through open banking
Given the Lendi Group's focus on technology, it's no surprise that it welcomes the next major shift in the mortgage finance industry – to open banking.
Cramb says insights from markets such as the UK where open banking is well established suggest that readily available access to data will increase connectivity between brokers and lenders, further simplifying the home loan process for customers.
"At Lendi Group, we view innovation as an ongoing process, and we don't sit still as we strive towards our vision of seamless connectivity and a friction-free property finance experience for all our stakeholders. So we would welcome any opportunity to innovate in the future."