Mortgage Choice Brisbane City is rank 1 in this year's Top 10 Brokerages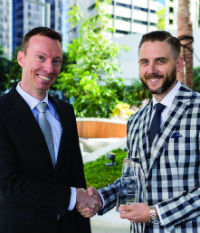 Matt Cunliffe's young, energetic team show commitment to both their customers and each other – making for a winning combination

Matt Cunliffe cracked the number one spot this year after taking the silver medal in last year's competition. While this brokerage is no stranger to Top 10 glory, it's an impressive result that it surpassed the Sydney and Melbourne strongholds – and during a time of tightening credit and rapidly changing bank policies.
There's good reason for its success: Cunliffe's firm is young, energetic and dedicated to customer service, education and nurturing its staff .
Cunliffe believes his brokerage's win this year comes down to the team's commitment to their customers and each other.
"We operate as a family so no one is left behind," he says. "Everyone is working towards the same goal, and that same goal is a great client outcome. The better the client outcome, the more frequent we get to help."
But there are some unique aspects to the business, which is spread across two offices and covers four franchise areas in the Brisbane region. For one, the average age of its employees is around 28. They bring a diverse range of skills and experience to the job, with degrees in finance, business, marketing, and, most recently, construction management.
"I don't hire brokers into the business; we hire support staff and then train them to become brokers," Cunliffe says.
"As long as we get a good feel for them and they have the right drive and hunger to perform within our business, I'm confident in our ability to train and teach them."
"We operate as a family so no one is left behind. Everyone is working towards the same goal"
They are taught from the ground up, starting with data entry, processing, submission quality and compliance and sales. They're also cross-trained so customers don't feel one person's absence when they get sick or go on holiday.
To make sure they're offering clients the best service, the team constantly seek client feedback. "We have a very open office where everyone discusses everything with everyone.
We have team meetings every week. We put things on the table to discuss how we can improve," he says.
"We're a big business in the numbers we do, but we're also a small business, and that allows us to be nimble and adapt to the different needs of our customers."
While he may have a young team, Cunliffe's brokerage has a broad client base and it has never tried to focus exclusively on millennials or the first home buyer market.
"With the professionalism of the staff and the brokers, we can overcome any potential concerns that an older client might have in working with a younger broker," Cunliffe explains.
Regardless of age, clients are coming through the door for an education.
"That's where brokers really need to hang their hat, on the ability to educate."
As banks overhaul their policies, and turnaround times are blown out, brokers have to manage their clients' expectations while still making their proposition attractive.
Cunliffe is a big believer in "underpromising and overdelivering".
"Anyone can lodge an application – you can do it online yourself, you don't need a broker for that – but if you want a good outcome and you want to learn and set yourself up for the future, I think that's where we really shine."