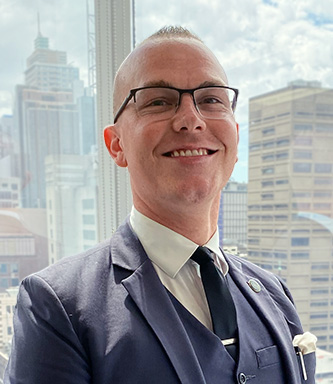 Company: Legal Home Loans
State: NSW
Total value of residential loans FY20: $125,204,000
Total number of residential loans FY20: 184
Boasting the largest loan value growth in the top 10, Cullen Haynes has a much more unique value proposition than other brokers on this list. Legal Home Loans focuses specifically on lawyers, offering tailored home loans, refinances, commercial finance, asset finance and chambers finance.
Haynes joined the brokerage after a finance career at Macquarie, working in its Corporate Asset Finance team. Since its launch in 2018, Legal Home Loans has grown from a team of two to an office of 10 and growing. Saying the MPA Top 100 Brokers achievement was a team effort over which he sits as director of sales, Haynes adds, "I'm very lucky to work with such a driven, intelligent and passionate team. We're all focused on helping every lawyer at every level."
Because of his very specific client base, Haynes has styled his approach towards customer relationships to suit. "Lawyers, as a demographic, are highly educated, driven and competitive, so during COVID-19 it was essential they were kept up to speed with market opportunities with the drop in housing prices," he explains.
The biggest challenge this year was navigating the growing sales team while working from home, but Haynes says the daily meetings, catch-ups and Friday Zoom parties helped with the stress! His positive mindset has also helped. Reflecting on the past year, Haynes says the biggest insight he can share is that change is certain, but life is not. "The only thing you can count on is your own mindset and perception of the world," he adds. "So it all starts with a check-up from the neck up and realising that your attitude is contagious, so ensure it's worth catching!"
Haynes says making it into the Top 10 in 2020 is a "humbling and exciting feeling" for the team at Legal Home Loans.
"Our focus has always been to help all lawyers self-actualise through finance, so it's great to know how much of an impact we're truly making," he says.
Haynes puts his success down to his clients, the drive of the team around him, and their willingness to welcome challenges. Considering what makes a top broker, he hails back to his late mentor Jim Rohn, who said: "Don't wish it were easier; wish you were better. Don't wish for less problems; wish for more skills. Don't wish for less challenges; wish for more wisdom."