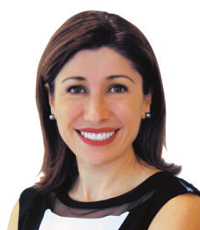 WHAT READERS SAID

"Helen and her team have provided the best education and guidance about investing in real estate. She has shown us what makes a good investment for us as individuals and it is not 'one size fits all'. We have avoided costly mistakes that we otherwise would have made without her guidance." – Annette Wright
-It is a privilege to be a finalist
in the YIP Property Investment Advisor category. It is also a testament to my team at Real Wealth Australia and the services we offer our clients and students. Property investing is a great way to grow your wealth and can truly transform your fi nancial future.
-But property investing is a serious business.
As such, the right education, advice and support is integral to a person's success in property. It truly bothers me when people don't invest in themselves and get the support they need to build a thriving property portfolio. They've worked so hard to save and invest their money in something, so to then gamble on a property without having planned or researched it correctly is such a waste.
-A trusted advisor should be
experienced, qualified and educated.
They will also:
*
provide you with personalised, educated and easy-to-understand advice
*
teach you how to invest in property and build your portfolio long-term; in other words, their lessons will be lifelong and you won't be reliant on them to make property decisions suburbs, councils, etc, and tailor their programs to your needs
*
act in your best interests and provide unlimited and ongoing support
*
be clear and explicit in the services they offer, and transparent in their dealings
-My main tip when choosing
who to work with is to do your research. Don't just sign up to an education program because you've read a few good reviews, and make sure you double-check what their vested interest is. I personally struggle with anyone offering education services and selling you real estate, as I see this as a confl ict of interest.