Non-QM loans expand a broker's ability to serve today's home buyers and investors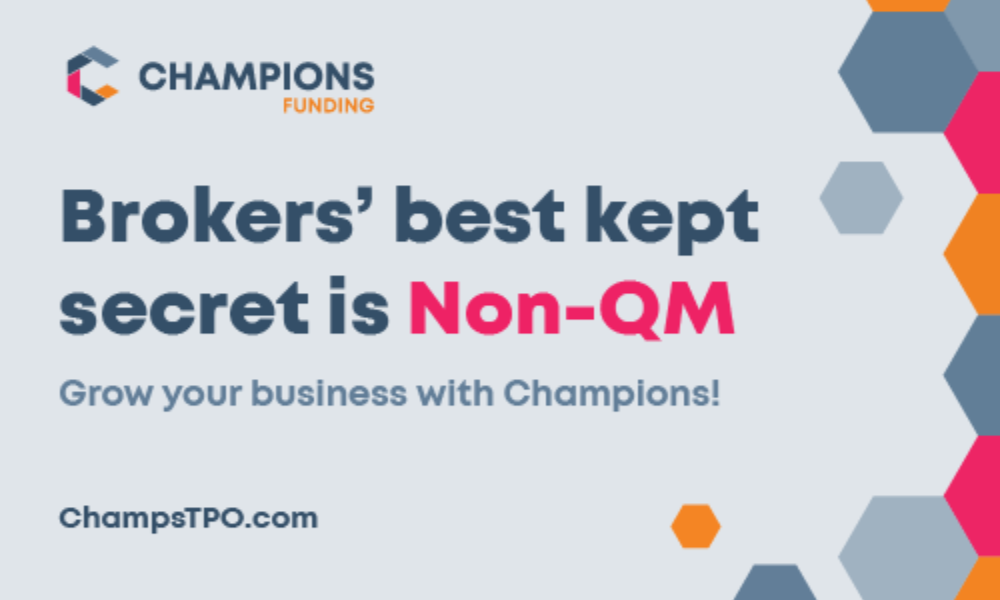 The following article is provided by Champions Funding.
The workspace landscape has changed. Starting before the pandemic, but accelerated by it, the type of borrowers serviced by mortgage brokers has also shifted. Recent income trends across the nation have brought on a surge of credit-worthy borrowers who have non-traditional strategies towards earning. More than ever, there is relevancy in market to consider the true purchasing power of prospective borrowers who maintain cash-based businesses, or generate income through e-commerce platforms, gig-work, consulting services, including those transitioning from life events, and the self-employed. There is no shortage of demand in market for increasingly flexible financing options for responsible borrowers with fluctuating, limited, or no income documentation. Curious on how to tap into this market of borrowers who are left out of traditional agency offerings? Non-QM and CDFI are the answer.
Mortgage brokers are uniquely positioned to find opportunities for borrowers that fit and make sense for their individual financing goals. Yet, mortgage professionals who focus solely on agency programs are leaving a considerable portion of these opportunities untapped and, thus, a large population of borrowers' housing needs unfulfilled. At Champions Funding, our flagship Ally No Ratio product is not based on bank statements, employment, or DTI requirements. Diverse loan options like these expand the ability to serve today's home buyers and investors with responsible lending solutions combining the flexibility needed for non-traditional wage earners. All brokers looking to build their pipelines can benefit by incorporating both non-QM and CDFI into their portfolios to be equipped to service today's borrowers.
Champions Funding, as a mission driven organization, was created to serve the underserved, through empowering our lending partners to help provide accessibility to the dream of homeownership in the neighborhoods these mortgage brokers and lending partners directly support. Many independent mortgage brokers are looking for ways to add value to their local communities by serving more borrowers, and building their pipelines. Incorporating non-QM and CDFI allows our lending partners to fill in gaps while increasing opportunities to reach the ever-changing demographics of consumers and investors.
Equipped with a full suite of non-QM and CDFI options, Champions Funding is empowering mortgage brokers to fulfill the dreams of diverse homeowners. Boost your business by closing loans that open the doors to a $1 trillion market of underserved communities while offering minimal conditions and streamlined approvals. Brokers are no longer seeing 45-day turnarounds (and if you are, you're working with the wrong lender). Champions Funding offers 10-21 cycle times and can close business-purpose loans in as few as 5 days. The myth that non-QM is challenging, is just that, a myth. At Champions Funding, securing financing for your borrowers has never been easier thanks to our hassle-free closings, and efficiently streamlined processes.
Ready to partner with Champions Funding? Become an approved broker today.