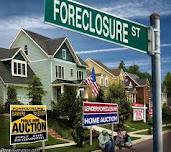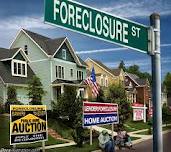 (Bloomberg News) --- Ken Major climbs the steps of a county courthouse in a San Francisco suburb with $500,000 in cashier's checks in one hand and a list of addresses in the other. Major is a buyer for Waypoint Real Estate Group LLC, an Oakland-based investment firm that's scooping up foreclosed homes in California.
On this December afternoon, he joins a dozen house flippers as an auctioneer starts hawking the latest batch of defaulted properties to hit the market. Major bids on a three-bedroom house in Antioch, and after other buyers counter, he wins at $147,600.
"We got it," he mutters into a mobile-phone mic dangling from his ear. The house was valued at more than $400,000 in 2006, Bloomberg Markets magazine reports in its April issue.
Waypoint, a private-equity real-estate fund with $150 million in assets, is pioneering a new approach to making money from the housing crash. Since 2007, investors have been trolling the cratered suburbs stretching from California to Florida (SPCSMIA) for cheap houses to flip. And firms such as PennyMac Mortgage Investment Trust have sought value in subprime-mortgage-backed securities.
Waypoint, which owns 1,100 houses and is buying five more a day, is betting that converting foreclosures into rentals is a better way to make a profit. Other firms, such as Landsmith LP in San Francisco, are now cropping up and pursuing the same strategy in Arizona, California and Nevada.
'Yields Are Awesome'
With many suburban homes selling for half their peak values and demand for rentals from prospective tenants climbing, Waypoint was earning an 8 to 9 percent return on its capital as of Dec. 31, according to a quarterly report it sends to clients. That beats the 6.3 percent gain in the BI NA Multifamily REIT (BRFREITC) Index, which tracks the performance of 27 apartment building operators.
The cost of renting in the U.S. reached an all-time high compared with that of buying a home at the end of last year, indicating it's a good time for investors to purchase, Deutsche Bank AG (DBK) analysts said in a note today. Should property values rebound, Waypoint may earn at least 20 percent from appreciation in an eventual sale of the houses, says Colin Wiel, who co-founded the firm in 2008 after backing technology startups as an angel investor.