An AI company took home the $25,000 top prize at LendingTree's Innovation Challenge. Power Originator sat down with the firm's founder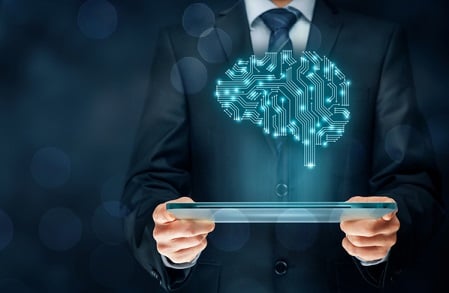 Dmitri Kozhevnikov is the kind of tech savant who is always in front of the next big wave — and clearly having a great time along the way. His resume reads like a quintessential Silicon Valley adventure story, with stints in his native Russia running a corporate travel experience company, WildWild World Wide Expeditions, and launching a popular online yoga platform.
These days, Kozhevnikov is focused on artificial intelligence, specifically the virtual sales assistants that create automated calls, emails and texts to generate leads and close deals — all faster and cheaper than any human team ever could. Launched just nine months ago, Kozhevnikov's SalesRep.ai system has rapidly taken off, winning clients across the financial and legal industries, with growth potential in education and automotive.
Last month, SalesRep.ai beat out four competitors to take home the $25,000 grand prize at the LendingTree Innovation Challenge, held during the LeadsCon convention in Las Vegas. The contest is considered the most exclusive in the lead-generation ecosystem, bringing together a variety of startups and technology innovators centered around consumer lead generation, call center and customer experience.
Power Originator recently sat down with Kozhevnikov to discuss the new AI age and its applications for the mortgage industry.
Power Originator: A big selling point for AI is the incredible data on performance and cost savings. Could you share some of those figures?
Dmitri Kozhevnikov: We have found a roughly 30% increase in the amount of leads we could actually generate by getting hold of them, and 27% less time spent on follow-ups. Really the goal with this is making a transfer — if we make a transfer to a real (human) representative, that is a success. The system can also reschedule the call if the person can't talk and then communicate over text message to find the right time. If you aren't interested in the service, we can disqualify you.
PO: You have done a wide variety of things. How did you get into the AI sales rep industry?
DK: We started with a company called Bouncehelp.com. When you get on a website, the Bouncehelp is a small widget that engages people. You enter your phone number on the site, so your call is processed. We saw it was a pretty cool feature, and we got a lot of business out of it. It does provide value, but several people asked for the calls to go out to the clients after the fact, not specifically tied to the website. At that point, we were looking at opportunities to follow up, rather than just providing a feature to increase conversions on the website.
PO: Your system has put a lot of focus on the automated call feature, while also offering automated emails and texts. We've all gotten those AI calls from companies that clearly sound like recordings. Would you say your system is smoother?
DK: With us it is smoother, but some people can still tell. Obviously, how we experience conversations is through emotions and at this point, you can't really do the emotion correctly all the time. It's still a pre-recorded message, and one of the biggest challenges we are trying to overcome is to do it as smoothly as possible, so it can understand you and keep the intonation.
PO: So would you say it hard to tell the call is pre-recorded?
DK: If it is a real simple conversation that is really fast, you don't really know what's happened. That kind of conversation can be like, "Hello, how are you? Hold on and I will get the loan specialist for you." The longer you talk, the more you can tell, but the point is not to deceive you into thinking it is a real person, but to provide you the right experience. If the issue is solved for the person, they feel okay.
PO: This technology seems very well suited to the finance industry, including mortgage.
DK: Yes, there are tons of leads in finance. There is not an issue of generating leads, but the conversation and being efficient is important. That's why I loved LendingTree (Innovation Challenge). About 20 companies reached out to us after that. Our goal now is to get more clients and keep refining and refining.
Related stories: