Leverage technology and become irreplaceable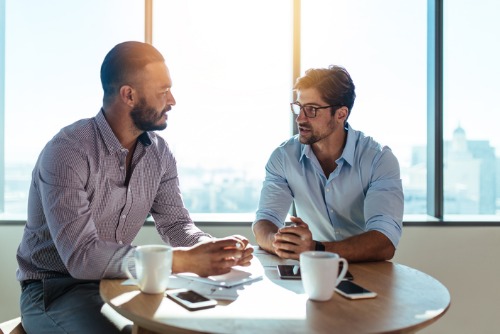 It used to be that people were wondering whether or not technology would replace the role of the originator. At Originator Connect 2018, Steve Richman, a national spokesperson, sales trainer, marketing manager, and consultant at Genworth Mortgage Insurance, noted that even with the advent of automated underwriting systems and automated valuation models, there are still underwriters and appraisers.
"They are not going to get rid of [originators] anytime soon. How can we ensure that they don't get rid of us? First off, I hear a lot of these complaints: 'This industry's getting really, really complicated.' That's good. The more complicated our industry is, the more they're going to need us. Once it becomes simplistic and anyone can do it, guess what? That's when we get replaced," Richman said.
Rather than looking at people as potential loans, Richman said, originators need to look at people as individuals, learning their particular story and establishing relationships on a one-to-one basis.
"We treat people like people, then we're establishing relationships. If we just look at them as loans, then we can be replaced by machines because machines look at them as loans," Richman said. Although he thinks that technology may eventually find its way to replace people when it comes to refinancing, when it comes to purchase lending, borrowers still want individual hand-holding.
If an originator isn't in charge of their big systems technology—the CRM, the LOS, the app, the website, the marketing platform, is all determined by the company—then the individual adoption of technology is a key differentiator, even within a single company.
When it comes to technology, Richman said there are three types of loan officer: the ostrich, who adopts a "head in the sand" mentality and for whom technology doesn't exist; the order taker, who is only as good as the technology they have and doesn't know what to do if technology fails for whatever reason; or the loan officer who can leverage technology, making it work to suit their needs.
Originators are constantly looking for ways to differentiate themselves from the competition and prove themselves immune to the unyielding/relentless force of technology, and way for an originator to provide value to clients and referral partners beyond the mortgage is to generally improve their lives.
Enter the life hack.
A life hack is any kind of shortcut, resourceful method, strategy, or technique utilized to improve the usefulness of items, increase productivity and become more efficient in any area of life. An originator who knows how to leverage technology can use it for everything from streamlining the loan process to connecting with their clients and referral partners, sharing life hacks with millennials and baby boomers alike.
Richman named a number of websites and apps to share with everyone that can help break the ice, build relationships, and enable you to become more than just an originator, but someone who can improve lives.
haveibeenpwned.com: this site isn't the easiest to remember, but it is able to detect whether an email address corresponds to an account that has been compromised in a data breach. At a time when cybersecurity is becoming more and more important to businesses and hacking of personal data is commonplace, people will appreciate a way to get a heads up.
Name Shark: Take someone's photo or grab their photo online, and this app facilitates the memorization of names through games and quizzes associating the name and image. For anyone who meets a lot of people on a regular basis or just isn't good for remembering the few names of the people they do meet.
Magic Plan: Take photos of a room, and the app assembles them into a floor plan of that room. Upgrade to the paid version and see the floor plan in 3D. Great for realtor partners or anyone who's shopping for a property, and works for residential or commercial spaces.
Homesnap Real Estate & Rentals: Homesnap is powered by the same real-time data used by licensed REALTORS®, so with this app, anyone can take a photo of a house on a mobile device and get accurate data on when it was built, the square footage, the property boundaries, when it was last sold, what it was sold for, and get an interactive tour.
Postagram: this free app turns photos into postcards. It's a good idea for congratulatory notes, or anything that needs that extra personal touch. Submit a photo, add text, and for .99, it'll be mailed to a provided address.
Mr. Number: tired of getting spam or solicitation phone calls? Submit a shady phone number to Mr. Number, and that number gets added to a database. When that number calls anyone else's phone, they'll be alerted to the fact that it's a scam number.
Around Me: Rather than hopping in a car to drive around an area to identify local amenities, this app locates banks, bars, gas stations, restaurants, grocery stores and other businesses within a three-mile radius of a particular location.
The list goes on. But as everyone spends more and more time on mobile devices, there are more—sometimes better—ways to interact with the world. Sharing apps is not only a way to become a useful resource but a way to see how clients and partners want to interpret the world.
The originator who learns how to leverage technology to increase their relevance and give the people what they want is the originator who can't be replaced.