We take a closer look at US lenders with the most modest closing costs on home loans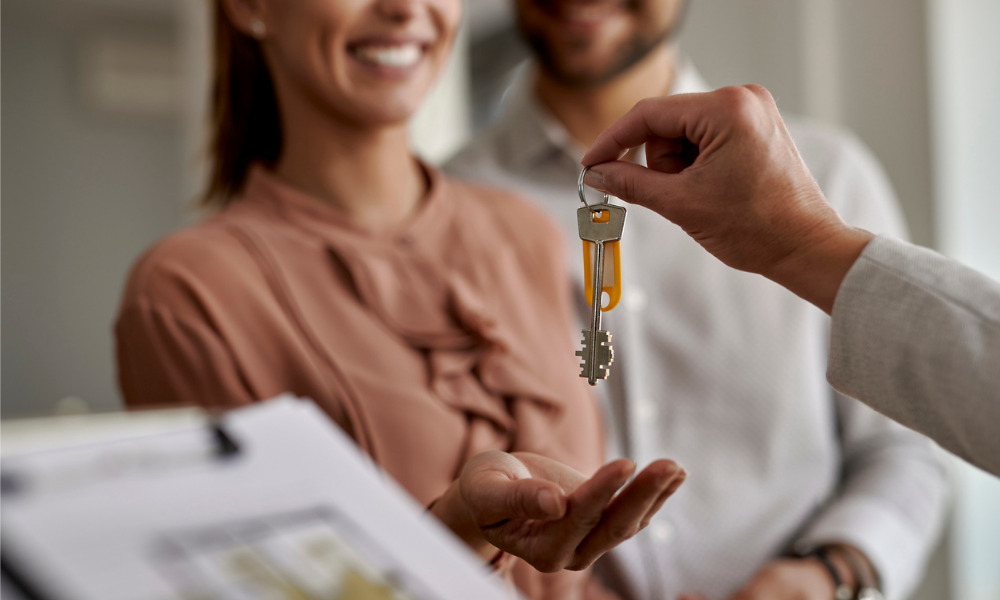 When shopping for a mortgage, homebuyers typically compare the interest rates offered by lenders. However, it is equally important to look at their individual closing costs to minimize your out-of-pocket fees.
In fact, closing costs for an average borrower ranges between 2% and 5% of the home loan amount, according to finance company NerdWallet. Your monthly payments cover interest and principal amortization, but you have to pay closing fees upfront.
While state governments offer down payment or closing cost assistance, steep fees may be a barrier for first-time homebuyers who are having difficulty saving.
As such, we examined the most recent data from the Home Mortgage Disclosure Act (HMDA) and identified 10 lenders with the lowest fees.
Read more: The 10 best states for buying an affordable new home
Our methodology
After completing the mortgage approval process, borrowers are typically surprised by fees and service costs that they are probably seeing for the first time.
Closing costs may include lender fees, mortgage insurance, origination fees, and property taxes that can reach $15,000 or 5% for a $300,000 home. However, you can find banks and non-bank lenders that charge closing costs lower than 2% of the loan.
Several of these are online-only companies that charge lower lenders fees since they do not have physical branches. Though rare, some lenders do not charge origination fees to make their mortgage products more affordable.
We ranked these firms based on their average closing costs in 2020. We've also included sample upfront costs based on a $300,000 property.
Supreme Lending
Citibank
PNC Bank
JPMorgan Chase & Co.
Better.com
Wells Fargo
Gateway Mortgage Group
Guaranteed Rate
Bank of America
Flagstar Bank
1. Supreme Lending
Closing cost percentage: 0.64%
Sample upfront fees: $1,920
Headquartered in Dallas, Supreme Lending is a direct-to-consumer retail lender that issues home purchase loans and refinances. About 30% of its overall volume comes from Texas, but it is licensed to operate in all 50 states and Washington, D.C.
In addition to conventional and jumbo loans, the lender offers first-time homebuyer programs like Fannie Mae HomeReady, FHA, VA, and USDA loans.
It also has an Educator Mortgage Program that provides up to $1,600 in closing cost credits for teachers, counselors, librarians, nurses, and other qualified professions.
However, mortgage rates are not readily available on Supreme Lending's website. You need to contact a loan officer to discuss loan pricing and lender fees before starting your application.
2. Citibank
Closing cost percentage: 0.83%
Sample upfront fees: $2,490
Citibank is a national mortgage lender that issues conventional and low-down-payment loans. The New York-based company also provides refinancing, jumbo loans, and adjustable-rate mortgages (ARMs).
While the bank charges a mortgage application fee of $100, it still offers consistently lower closing costs than most lenders based on historical HMDA data. Its website also shows customizable mortgage rates to help borrowers choose a product.
You can start your Citibank mortgage application in person, over the phone, or online through its platform called the Citi Mortgage Selector. However, you need to talk with a loan officer to get preapproved and complete the process.
Citibank is owned by Citigroup, the country's fourth-largest banking institution and the world's biggest credit card issuer with $500 billion in annual sales.
Read more: No more closing costs for veterans
3. PNC Bank
Closing cost percentage: 0.90%
Sample upfront fees: $2,700
With a total asset of $469 billion, this lender belongs to the top 10 biggest banks in America. It is headquartered in Pennsylvania, but it issues mortgages in all 50 states and offers a wide variety of home loan products except for home equity loans.
In addition to conforming, jumbo, and government-insured loans, PNC Bank offers community loans and medical professional loans without insurance.
PNC has a unique online tool called Home Insight that guides borrowers through loan processes like estimating their budget and getting a preapproval. The bank also provides a $1,500 grant to qualified low-income borrowers to help them with closing costs.
4. JPMorgan Chase & Co.
Closing cost percentage: 0.99%
Sample upfront fees: $2,970
JPMorgan Chase is the largest bank in the United States with more than 4,800 branches and $3.21 trillion in consolidated assets. Having closed 229,000 loans worth $108 billion in 2020, it is also one of the country's biggest mortgage lenders.
Based in New York City, Chase has an extensive roster of loan products like conventional and government mortgages, except for FHA 203(k) home improvement loans.
Furthermore, the bank offers the DreaMaker mortgage that allows down payments as low as 3% - all of which can come from an eligible grant or gift.
Borrowers can submit their documents and track their applications online, but they need to speak with a loan adviser to complete the process.
5. Better.com
Closing cost percentage: 1.04%
Sample upfront fees: $3,120
Better.com offers a digital platform that borrowers can use from loan application to closing. This Virginia-based company provides a 24/7 online service, so you can manage your application and track monthly payments at your own convenience.
The lender does not charge underwriting and origination fees, so its closing costs are roughly 1% cheaper than its online-only competitors on average.
Moreover, Better's mortgage rates are clearly posted on their website. You also will see your rate computed in real-time based on your creditworthiness.
However, this company does not offer home equity lines of credit (HELOCs), VA, and USDA loans.
Read more: Paying through the nose to close? Location may have an effect
6. Wells Fargo
Closing cost percentage: 1.20%
Sample upfront fees: $3,600
Headquartered in California, Wells Fargo is the country's third-largest bank with $1.77 trillion in total assets. It also became the fourth-biggest mortgage lender after originating a total loan volume of $137 billion in 2020.
A nationwide lender, Wells Fargo offers a wide range of home loan products and several online conveniences like e-signing. It also accepts a minimum down payment of 3% and a credit score of 620 for refinancing and purchase loans.
The bank also offers HELOCs, but new applications are suspended during the COVID-19 crisis.
7. Gateway Mortgage Group
Closing cost percentage: 1.26%
Sample upfront fees: $3,780
Gateway Mortgage in Oklahoma is licensed to operate in 43 states and has 165 physical branches nationwide. Over the first half of 2021, the lender opened 10 new mortgage centers in Colorado, Idaho, Texas, Oregon, Utah, and Wyoming.
Gateway offers conventional fixed-rate loans, ARMs, and government-backed loans with options for first-time homebuyers and poor credit applicants. Borrowers in rural areas can also qualify for 100% financing with a USDA Rural Development Guaranteed Housing Loan.
Furthermore, it offers products for low-income borrowers such as Freddie Mac Home Possible and Home Possible Advantage.
8. Guaranteed Rate
Closing cost percentage: 1.35%
Sample upfront fees: $4,050
Guaranteed Rate provides a fully digital application experience for homebuyers. You just need to visit a physical branch after approval since their online platform does not support e-closing.
On average, the absence of underwriting and origination fees can slash 0.5% to 1% off your closing costs.
Additionally, borrowers can avail themselves of excellent interest rates for 30-year fixed-rate mortgages as long as they qualify for the lender's strict credit requirements.
Available in all 50 states, Guaranteed Rate offers a wide variety of conventional loans, refinancing, jumbo loans, and government-backed loans but not HELOCs.
Read more: The 10 biggest mortgage lenders in the world by market capitalization
9. Bank of America
Closing cost percentage: 1.40%
Sample upfront fees: $4,200
Headquartered in North Carolina, Bank of America (BofA) is the second-largest bank in the country next to JPMorgan Chase.
It offers competitive rates and fees for first-time homebuyers and low-income applicants, and issues almost all types of mortgages except for renovation loans.
Despite charging origination fees, BofA provides down payment and closing cost assistance to qualified borrowers. For example, customers in select locations can receive up to $7,500 for nonrecurring closing expenses under the bank's Community Homeownership Commitment program.
Additionally, existing customers can qualify for up to a $600 reduction on origination fees.
10. Flagstar Bank
Closing cost percentage: 1.41%
Sample upfront fees: $4,230
Flagstar Bank excels in its range of mortgage types and products, rate transparency, and online conveniences.
Like most lenders on this list, this Michigan-based bank issues conventional home purchase loans, refinancing, ARMs, jumbo loans, and government-backed mortgages. It also provides several renovation mortgage options like the Flagstar Destination Home loan, Fannie Mae HomeStyle, and FHA 203(k) loan.
Mortgage rates and monthly payment quotes are readily available through Flagstar's website. Borrowers just need to input the property value and ZIP code, and they will be presented with product options, interest rates, and APRs.
You can start your application using the bank's website and a loan advisor will contact you afterward. Document uploads, e-signing, and loan tracking can all be done online.
Important reminders
Mortgage rates and closing costs are highly personal. These can be influenced by your debt-to-income ratio (DTI), credit score, location, income, and the price of your dream home.
For example, you have to pay for mortgage insurance on top of lenders fees if your down payment is below 20% of the property value.
To find your best offer, ask for estimates from several lenders for comparison and use mortgage calculators to help in approximating your upfront costs.